2017 CHARLES H. MOORE AWARD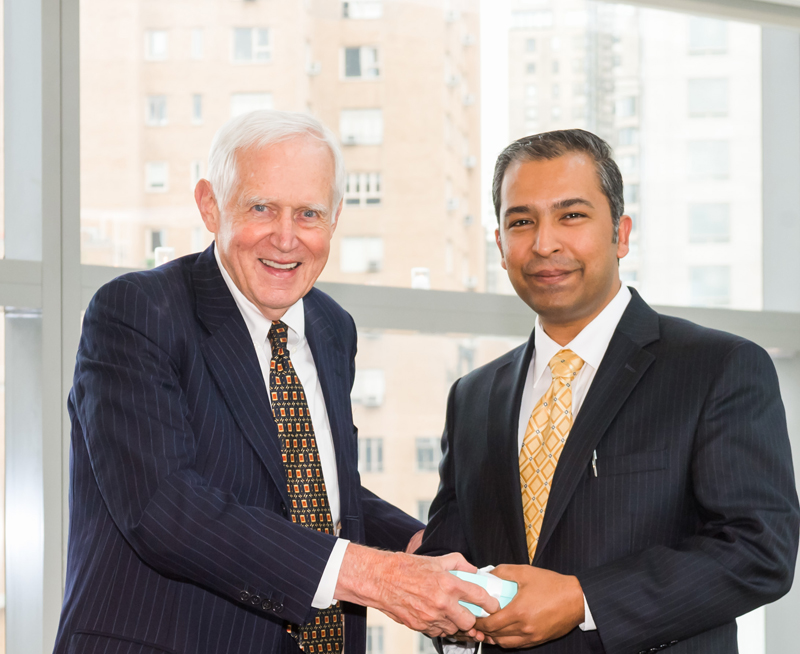 Balaji Ganapathy, Head of Workforce Effectiveness, North America, Tata Consultancy Services (TCS)  with Charles H. Moore, Former Executive Director, CECP
Balaji Ganapathy draws his passion for education from a career journey that spans leadership roles in engineering, entrepreneurship, business consulting, human resources, corporate social responsibility and diversity, and inclusion. While Balaji oversees the functions of HR Business Consulting, CSR, and Diversity & Inclusion for more 35,000 employees, he is also helping change the state of STEM education, with a special focus on women and girls, minorities, and underrepresented groups through leadership with STEMconnector®, Million Women Mentors, NPower, US2020, IMPACT 2030 and many other national organizations.
TCS has achieved unprecedented levels of employee engagement and measurable community impact, with volunteerism flourishing from a handful of employees in 2010 to more than 17,136 in FY16 – representing more than 58% of the workforce. Since 2010, over 50,000 employees volunteered for more than 2,000 CSR events across 100+ cities. TCS has made philanthropic investments of over $25MM, and its pro-bono investments to develop innovative technology platforms for social causes has resulted in over $12 MM in social good. TCS' flagship student engagement program, TCS goIT, has engaged more than 13,000 middle and high school students across 54 cities in the United States and Canada with hands-on experiences in computer science, inspiring them towards tech careers in all sectors.
Balaji's visionary approach has helped TCS build a broad-based, collaborative, cross-sector effort that reaches over 2 million young adults while leveraging its own intellectual, technological, and human capital to supplement financial philanthropic investments.
Do you have a nominee for the 2018 Charles H. Moore Award? Recognize a senior colleague who demonstrates perseverance in the pursuit of societal advancement. Applications are due by Friday, June 30th. Download the application.