Innovation Comes in All Shapes and Sizes: Barclays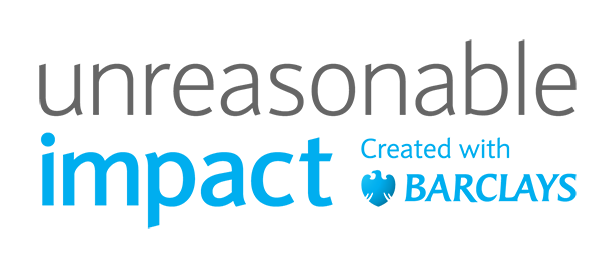 Unreasonable Impact is an innovative multi-year partnership between Barclays and Unreasonable Group to launch the world's first international network of accelerators focused on scaling up entrepreneurial businesses that will help employ thousands worldwide, while solving some of our most pressing societal challenges. Barclays and Unreasonable Group share the belief that high-growth entrepreneurs are well-placed to tackle the global problem of unemployment, and that entrepreneurial solutions are best primed for scale when supported by a major corporation that can accelerate their growth.
"At Barclays we help businesses scale and grow," explains Joe McGrath, Barclays' Global Head of Banking and the program's sponsor. "Through Unreasonable Impact we're harnessing this knowledge to support ground-breaking ventures with the potential to address some of society's most pressing challenges. With our resources and mentorship, we're helping to grow the green economy and create the jobs of tomorrow."
The program strives to support the most effective entrepreneurial-led companies solving key social and environmental issues, such as those that are building the future of transportation with 100% emission free vehicles and urban farmers who are changing the way we feed our cities. These companies are at the forefront of innovation.
The two-week accelerator program is carefully designed to support growth-stage ventures with advice and guidance from Barclays volunteers and a global community of world-class mentors and industry specialists.
"We know that entrepreneurship can be a difficult journey and these inspiring companies often need as much support as they can get to overcome key barriers to growth," says Debbie Goldfarb, Global Head of Barclays International Citizenship. "We're proud to have co-founded this partnership with Unreasonable Group and believe that together we can make a real difference to the growth trajectory of these businesses."
As one entrepreneur commented: "As a CEO, I often feel somewhat overwhelmed by the vast range of issues to deal with, and I used to think I was alone in this. Meeting other entrepreneurs, then finding they all feel in the same position and face the same problems, has meant I now have a fantastic support network for the future."
Barclays sees a real opportunity for impact by connecting participating ventures to their core business – tapping into the expertise and networks across Barclays, with hundreds of colleagues involved in coaching and mentoring these entrepreneurs, and thousands having their say in which companies should be invited to join the program. Following the accelerator, each company is assigned a senior leader mentor from Barclays who fosters close relationships across the company and supports their future growth.
Beginning in 2016, the program now supports more than 70 companies across the US, UK, and Asia Pacific – and these companies are chosen on the basis that they're positioned to create at least 500+ jobs each over the next five years. Barclays and Unreasonable Group track job creation across participating companies and monitor growth in revenue, profits, customer/user reach, financing, team size, and geographic expansion. And given that Unreasonable Impact strives to support the most effective entrepreneurial-led companies solving key challenges, they also determine success by tracking each company's social and environmental impact.
Collectively, by the end of Q2 2018, the Unreasonable Impact companies:
Have created more than 6,700 new jobs since joining the program
Are reaching more than 100 million customers
Have supported 100 million individuals to access energy services and diverted more than 8 million kilograms of waste
Across Barclays, the team has been able to make strategic introductions to Barclays' clients and vendors, while the program has also facilitated potentially hugely impactful partnerships between the entrepreneurs themselves. These connections are enabling the entrepreneurs to grow their businesses, explore new markets, and scale their impact, while the partnership is also informing innovation within Barclays to further support growth-stage ventures.
Click here to find out more.