Northwestern Mutual Childhood Cancer Program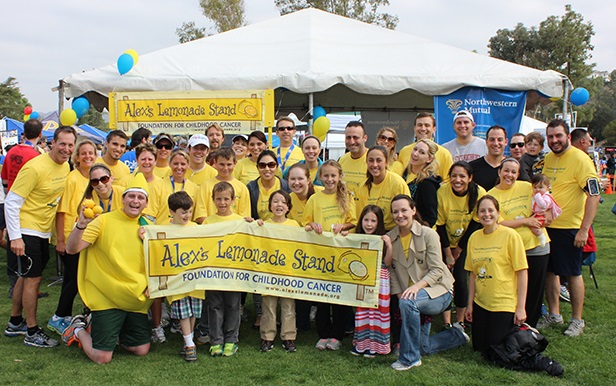 Overview
Northwestern Mutual is committed to providing security to families. Recognizing that a diagnosis of childhood cancer is one of the most painful and unsettling situations a family can face, we launched our Childhood Cancer Program in 2012. Engaging our employees and our network of over 7,000 financial representatives, we raise funds and increase awareness to accelerate the search for cures, and we support families facing a diagnosis as well as survivors who are struggling with lasting physical and emotional challenges related to treatment. To date we have contributed over $15 million to the cause and funded over 165,000 hours of research.
CEO Leadership
Our CEO chairs the Northwestern Mutual Foundation Board and was integral in the decision to select a single national cause to deepen our philanthropic impact. The Board reviewed over 50 causes and chose pediatric cancer because it:
Affects families in every community
Is significantly underfunded
Aligns with our mission
Is an issue we are positioned to impact
Our CEO actively supports the cause by recognizing network office contributions, participating in check presentations and awards, serving on the board of the Children's Hospital of Wisconsin and encouraging departments throughout the company to support and engage with the program.
Innovation
We listen to childhood cancer experts to identify underlying issues preventing progress and creatively leverage our resources to address those challenges.
Understanding the challenge of retaining early career researchers, we commit funding for young investigators and sponsor an annual symposium where they share their research.
Childhood cancer is consistenly underfunded, so we target foundation dollars to promising research and encourage our offices to raise dollars through recognition, awards, and matching gifts.
We funded the Northwestern Mutual Day Hospital at Children's Hospital of Wisconsin to provide a more supportive and engaging treatment environment.
We leverage our marketing partnerships (ESPN/ NCAA) to highlight childhood cancer, most notably featuring the cause on our Tournament of Roses Parade float.
We encourage collaboration by hosting researcher symposiums on frontline topics, including the first ever pediatric cancer symposium on disparities.
We are exploring innovative technology solutions to provide pain management and distraction therapy through virtual reality experiences at hospitals and Ronald McDonald Houses.
Measurement and Impact
Since 2012, we collectively contributed more than $15 million and funded more than 165,000 hours of pediatric cancer research. Each of our local offices have actively supported the cause in partnership with over 81 hospitals.
The Travel for Care program that we fund through ALSF has helped over 1,000 children access the best available care by covering flights, hotel nights, and meals.
To date, our public relations efforts have garnered more than 866 million media impressions.
The Northwestern Mutual Day Hospital provides a supportive treatment environment for almost 500 patients annually.
We have sponsored 10 pediatric cancer symposiums, providing over 750 doctors an opportunity to collaborate and share their work.
But most importantly, there are children who are cancer free today because of those research dollars. One young survivor inspired our 2017 Rose Bowl float and rode in the parade along with the ALSF researcher who had saved her life.
Edie Gilger was diagnosed with neuroblastoma when she was just five months old. Her cancer did not respond to standard treatment and her doctors were running out of options. Fortunately, Edie qualified for a novel treatment that Dr. Yael Mosse of Children's Hospital discovered and brought to clinical trial through funding from Northwestern Mutual's partner Alex's Lemonade Stand Foundation. The treatment not only saved Edie's life, it also did not have the traditional side effects of chemotherapy. Northwestern Mutual has funded the next phase of Dr. Mosse's research to expand this life-saving therapy so more children have a chance to enjoy life's moments like Edie.
Partnership
Our sole research partner since 2012 is Alex's Lemonade Stand Foundation. ALSF is a premier childhood cancer foundation founded by the parents of Alex Scott, who inspired children to raise money for research by holding lemonade stands. ALSF's prestigious scientific advisory board identifies the most promising research and we support ALSF in their efforts to raise funds and awareness.
We partner with several organizations that provide emotional, physical, and financial support to families to ensure they can access the best care, celebrate their successes, and have opportunities to just be kids. These partnerships allow our network offices to engage directly with local hospitals and families in a way that does not significantly divert resources from the critical research need. Current partners include Beads of Courage, Chemo Duck, summer camps, Ronald McDonald Houses, and ALSF's Travel for Care and Super Sibs programs.
We also partner closely with hospitals around the country.
Integration into the Business
Our Childhood Cancer Program epitomizes the theory "doing good is good for business". In turn, our success enables us to give back even more. Our network offices experience that shared value firsthand as their activations lead to success in recruiting, lifting local reputation, and opening doors in key markets.
Long-Term View
Our long term goal is to be recognized for our innovation and leadership in this space by the pediatric cancer community and our clients. Our ultimate aim is to be able to eventually select a new cause because children are no longer being threatened by this horrific disease.