Supporting Veterans: Goldman Sachs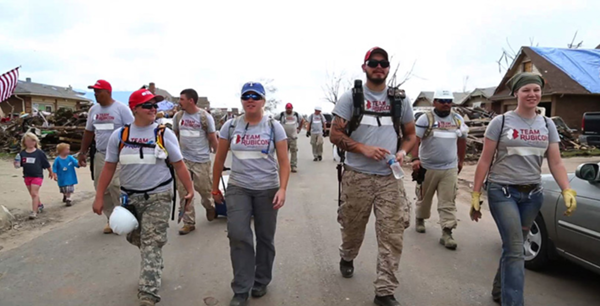 Goldman Sachs is committed to ensuring that veterans, including those with disabilities, have the resources and support they need to transition back into the civilian workforce. This is not only a civic duty, but it also reinforces Goldman Sachs' absolute commitment to cultivating and sustaining a diverse work environment.
Recruitment and On-Boarding
The recruitment and retention of veterans, including those currently in the National Guard and Reserve, is a priority for the firm. Goldman Sachs continues to build awareness among its people of the leadership, technical skills, and cultural attributes veterans bring to the workplace. Through its partnerships and participation in conferences, Goldman Sachs hopes to expand the growing base of veterans at the firm and address challenges they may face as they transition into the global financial services industry.
Job Readiness and Commercial Success 
Goldman Sachs is a founding member of Veterans on Wall Street (VOWS), an initiative dedicated to honoring former military personnel and employees currently serving the National Guard and Reserve by leveraging the resources of the financial services industry. Through a combination of educational initiatives, mentoring, and outreach, VOWS aims to help transitioning veterans and their family members by facilitating career and business opportunities. In November 2017, Goldman Sachs co-sponsored the seventh annual VOWS Symposium, which brought together veterans and leaders to discuss issues central to veterans employment and to share best practices for attracting and retaining talent from the veterans community.
Goldman Sachs Veterans Network
The Goldman Sachs Veterans Network's (GSVN) mission is to strengthen veterans' presence in the industry and at the firm. This program guides military-related engagement at the firm including charitable and business opportunities, professional development for veterans at Goldman Sachs, and community building among veterans and their allies.
Goldman Sachs Veterans Integration Program and Bengaluru's Armed Forces Integration Program
Launched in 2012, Goldman Sachs Veterans Integration Program (GS VIP) is a 10-week internship providing professional skills training and education for transitioning military men and women. This program offers a guided period of skills cultivation in a new and dynamic work environment. Program participants explore career paths while acquainting themselves with financial markets and products, gain applied work experience, and expand their professional networks through programming and events.
Corporate Engagement
In November 2010, Goldman Sachs Gives committed $20 million over five years to fund a network of nonprofits helping wounded veterans return to civilian life. The initiative focuses primarily on job placement and readiness, mental health counseling, and family support.Goldman Sachs Gives has surpassed the $20 million mark, with grants exceeding $30 million having been recommended to more than 100 nonprofits benefiting the veteran community in the US and UK. The firm is continuing to focus on supporting veterans as one of Goldman Sachs Gives' key strategic areas.
Vendor Diversity and Inclusion
Goldman Sachs strives to provide a full spectrum of businesses with the opportunity to compete on a fair and equal basis for its business and, ideally, to expand and grow while working with the firm. Having a diverse and inclusive supply chain is a social and economic imperative and the firm looks for vendors that share this commitment.
Goldman Sachs currently has diversity and inclusion definitions for more than 20 countries where it operates, which includes Service Disabled Veteran Owned Small Businesses and Veteran Owned Small Businesses. Through the unique expertise of diverse businesses, Goldman Sachs benefits from innovative ideas, a broader customer base, and better service for its clients.
Volunteerism
Each year, through Community TeamWorks (CTW), Goldman Sachs volunteers engage in service projects with veteran-related organizations to make a meaningful impact in its communities. In 2016, 820 employees volunteered with 16 veteran-focused nonprofits across six cities. Nonprofit partners include Carry The Load, US Department of Veterans Affairs, Help for Heroes, and Jericho Project. Goldman Sachs offices in the US participated in special Veterans Day CTW projects, including a project with FourBlock conducting mock interviews with veterans.
Visit gs.com/careers to learn more about opportunities at Goldman Sachs.
© 2016 The Goldman Sachs Group, Inc. All rights reserved. Goldman Sachs is an equal employment/affirmative action employer Female/Minority/Disability/Vet.