Our Team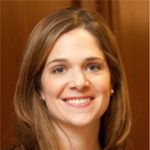 Courtney King Murphy
Director, Strategic Partnerships
As Director, Strategic Partnerships, Courtney Murphy strengthens CECP's partnership opportunities with leading companies, and builds upon her years of experience in corporate community engagement at CECP to effectively harness CECP's knowledge and expertise in priority areas for its companies to enhance their business and societal impacts. Courtney often represents CECP's trends and research at corporate and industry forums, and she has authored blogs and curated thought leadership perspectives on corporate engagement on important societal issues.
Previously, as Director, Corporate Leadership, Courtney led the agenda for the annual CECP Summit and served as CECP's primary relationship manager for leading practitioners in corporate social engagement, levering the robust benchmarking, communications, and fast-track support and resources within CECP to advance company priorities. Courtney joined CECP in 2009 as Manager, Communications, responsible for increasing the visibility of corporate community engagement in print, online, and broadcast media. Courtney created the CECP blog, CECP Insights, and has been instrumental in setting the agenda for executive discussions at the Board of Boards CEO Roundtables.
Courtney began her career in broadcast journalism, as a Researcher at ABC News Nightline in Washington, D.C. with renowned newsman Ted Koppel anchoring the show, and she has experience in public relations at a publicly-traded company from her experience serving as a Press Officer at Sotheby's Auction House in New York.
Courtney graduated magna cum laude, Phi Beta Kappa from Georgetown University with a B.A. in English, and she earned an M.A. in Contemporary Art at Sotheby's Institute of Art in London. Courtney serves on the Board of Trustees of the Baker Scholars Program at Georgetown University and has run seven marathons, raising funds for charities including Fred's Team at Memorial Sloan Kettering Cancer Center.