Our Team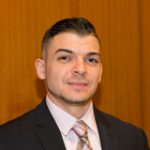 Daniel Vitaletti
Associate, Corporate Leadership
As Corporate Leadership Associate, Daniel serves as a key point of contact for CECP Companies. He leads CECP's Company Services and Insights Delivery strategy, producing custom data solutions and fast-track consulting deliverables. Daniel also facilitates peer connections and leads the logistics for signature CECP events for CSR professionals, including Industry Roundtables, Accelerate Communities, and the annual Summit.
Daniel joined CECP as a Data Insights Fellow in April 2016, where he conducted research and data analysis for one of CECP's most recent projects, What Counts: S in ESG.
Prior to CECP, Daniel worked for several years in the social sector at various nonprofits and public-private partnerships, where he implemented social impact programming for at-risk populations.
Daniel is completing a Master's of Public Administration in Public and Nonprofit Management and Policy at the NYU Wagner Graduate School of Public Service. He is specializing Social Innovation, Impact, and Investment with concentrations in social finance and impact measurement. He holds a BA from East Stroudsburg University in Clinical Psychology.