Our Team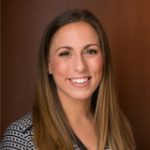 Michelle Bostwick
Senior Associate, Corporate Leadership
As Senior Associate, CECP's Corporate Leadership team, Michelle leads the development and strategy for CECP's Knowledge Center; provides support and advisory services to companies through fast-track consulting, outside research and peer introductions; leads logistics for CECP's annual Summit and supports various CECP roundtable and smaller events.
Michelle first joined CECP in June 2015 as the John C. Whitehead Intern, where she led CECP Engage, and supported industry trends research and company needs. Previously, she gained experience working in various non-profits, including Urban Green Council, NY's chapter of the USGBC, and Recyclebank, a B-Corp dedicated to rewarding citizens for sustainable actions. She also worked for Franklin and Marshall College's sustainability center, implementing many campus-wide initiatives throughout her studies.
Michelle earned a M.S. in Sustainability Management and program fellowship from Columbia University, and holds a BA from Franklin and Marshall College in Environmental Studies and Economics.