2018 CHARLES H. MOORE AWARD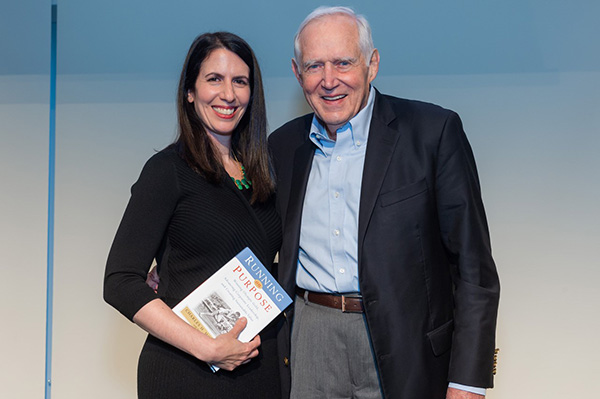 Charlie Award: Heather Nesle, Vice President, Corporate Responsibility & President, New York Life Foundation
When it comes to perseverance in tackling under-attended-to issues, Heather Nesle is leading the charge through the New York Life Foundation's critical work to transform the field of childhood bereavement. Her ability to bring different stakeholders together, find new perspectives, and her genuine concern for the people around her make Heather a standout. Heather leads the philanthropic and volunteer activities for New York Life, focusing the Foundation's efforts on issues that have historically lacked public awareness and a corporate champion, including childhood bereavement and the Monumental Women campaign to construct a female historical figure in NYC's Central Park. Heather also serves on the Board of Directors the Elizabeth Cady Stanton and Susan B. Anthony Statue Fund, and Afterschool Alliance.
As the leading corporate funder of childhood bereavement, the New York Life Foundation, under Heather's leadership, has been instrumental in helping to build the capacity of this emergent field. Childhood bereavement is one of society's most pervasive issues: one in twenty Americans will lose a parent or sibling before age 16 and the vast majority of children experience a significant loss by the time they complete high school. Yet bereaved children remain largely unseen and under-served within their communities and schools, with few outlets to express their grief. Since 2008, the New York Life Foundation has committed more than 35 million dollars to the cause and has awarded 153 grants totaling nearly $6 million dollars through its Grief Reach program, which provides grants to local bereavement centers across the country.
As part of this commitment, the New York Life Foundation initiated a groundbreaking collaboration to deliver better support to grieving students at school, bringing together leading professional organizations in the K-12 space to form the Coalition to Support Grieving Students. In partnership with the National Center for School Crisis and Bereavement, the Coalition developed grievingstudents.org, the first-ever comprehensive, industry-endorsed online grief resource for school educators. The New York Life Foundation is also furthering its mission to reach school communities across the U.S., through a new program – the Grief-Sensitive Schools Initiative (GSSI) – which aims to educate local schools and districts about childhood bereavement, introduce them to resources, and encourage proactive thinking about how to support grieving students through the "Grief-Sensitive School" designation.
Heather's commitment to taking a "change making" approach to the Foundation's funding efforts has helped to expand the company's bereavement portfolio in a smart, strategic way with the goal of reaching as many grieving children as possible and elevating public awareness of the issue. Helping families cope with the death of a loved one – both financially and emotionally – is at the heart of New York Life's mission and day-to-day business. This powerful alignment of the company's philanthropic work has resulted in particularly robust employee and agent engagement across the country in support of grieving children and their families.
Do you have a nominee for the 2019 Charles H. Moore Award? Recognize a senior colleague who demonstrates perseverance in the pursuit of societal advancement. Applications are due by Friday, July 31st. Download the application.