American Express, Hilton, and World Central Kitchen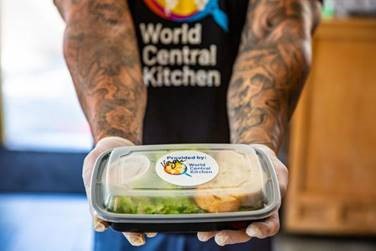 American Express and Hilton partnered together to donate up to 1 million hotel room nights to medical professionals on the frontlines fighting Covid-19. Beginning in April through the end of May, hundreds of thousands of room nights were booked. The two companies extended this important work through a $1 million contribution from American Express to José Andrés' World Central Kitchen (WCK), to provide healthy, freshly prepared meals to the frontline healthcare professionals who are staying at participating Hilton properties in cities across the United States during the coronavirus pandemic.
World Central Kitchen began this free meal program at select Hilton properties in Los Angeles in April and then expanded to New York City, Washington, D.C., Detroit, and San Francisco. Healthcare workers staying at participating Hilton properties as part of the free room program were able to pick up meals delivered daily to the hotels. The donation made to World Central Kitchen as part of this effort enabled the organization to cover both the price of the ingredients and the wages for the restaurant employees who may have previously been out of work.
Across the country, local restaurants have also been significantly impacted by Covid-19, with many having to close their doors and reduce operations and staff. In line with its mission to use the power of food to heal and strengthen communities, World Central Kitchen, in partnership with American Express and Resy, integrated local restaurants into its existing model, allowing the restaurants to hire back some workers to prepare the meals for the medical professionals who stayed at Hilton properties as part of this program.
To learn more about this work, read the announcement.
Additional Work by American Express and Hilton
This initiative is just one of several ways American Express is supporting local communities. They have donated $250,000 to the BET Covid-19 Relief Fund, which, in partnership with United Way Worldwide, is providing financial, employment, and food assistance to African American communities, and $250,000 to the Hispanic Federation's efforts to support essential workers and provide food for impacted people in the Latino community. American Express is supporting Save the Children with a $125,000 grant to be used for preventing and managing the spread of Covid-19, and assisting the educational, food and safety needs of children and families in Africa, and provided $100,000 to the International Rescue Committee to aid in COVID-19 related initiatives in refugee camps around the world. In the U.K., they've partnered with Deliveroo to help deliver 500,000 free meals to National Health Service staff, and in New York City, with Rethink Food NYC. American Express has donated to many organizations around the world that are focused on providing food and hot meals directly to those impacted by the pandemic, including City Harvest, United Way of New York City, St. Mary's Food Bank in Phoenix, Feeding South Florida in Sunrise, Fla., Foundation Abbe Pierre in France, Second Harvest Japan, and Banco de Alimentos in Mexico. Plus they're matching up to $1M in donations to Feeding America, when Card Members use Membership Rewards points towards their donations through JustGiving.com.
Hilton's response to the pandemic has helped to deliver the light and warmth of hospitality to those who needed it most. With that goal in mind, Hilton's efforts focused on some of the most vulnerable populations impacted by the pandemic. Hilton partnered with Open Kitchens in the United Kingdom to provide more than 50,000 meals a month. The company also enhanced its volunteering program to prioritize virtual volunteering opportunities, collaborating with Meals on Wheels to have customer care agents conduct wellness calls to homebound seniors and working closely with other partners around the world to see how its Team Members may be able to support from a distance. Hilton also made it possible for guests to donate Hilton Honors Points to its partner organizations responding to Covid-19, including World Central Kitchen, Project Hope, Direct Relief and many others. All Points donations are converted into cash and sent directly to the organization.