Discovery Education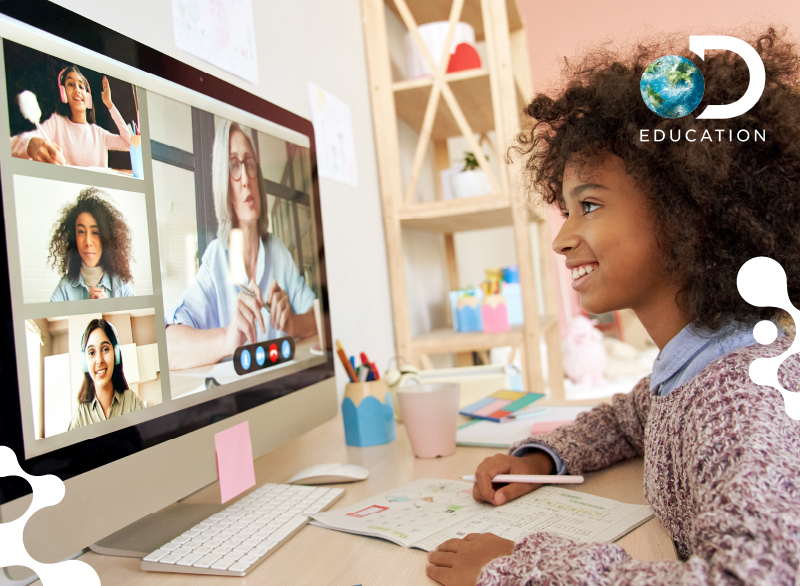 From the onset of Covid-19, to the aftermath of George Floyd's murder, to the insurrection at the Capitol, Discovery Education – a global leader in educational technology – is leading the way in supporting the millions of students and educators around the globe who seek a culturally responsive approach to education. With its mission to prepare learners for tomorrow by creating innovative classrooms connected to today's world, Discovery Education provides schools with an innovative digital K-12 learning platform that showcases the power of information to support student learning in any learning environment and during any current event.
"Discovery Education understands that, right now, teachers are seeking content to help students cope with and make sense of the events around them," said Discovery Education Vice President of Digital Content Robin Porter. "Our flexible digital platform allows us to quickly respond with timely, relevant content to support teachers in their important work of fostering critical thinking, empathy, and understanding."
An intentional focus on equity. When Covid-19 closed school communities across the country, Discovery Education's first action was to ensure access to students and teachers who needed proven, best-in-class instruction that supported learning in any environment. The three-pronged response included:
The launch of a special Viruses and Outbreak Channel within their digital learning platform, featuring resources to help educators discuss the Coronavirus outbreak with students; ​​​​​​
Collaboration with their content partners to make the Viruses and Outbreak Channel available to communities as well, so that families and caregivers had the same access to the content their children were exploring in class; and ​​​​​​
Offering free access to Discovery Education's digital platform for U.S. schools not currently using it. This offer was accepted by 15,000 schools nationwide.
Based on the positive educator response to the delivery of content grouped thematically in an easy-to-access format, Discovery Education is continuing to curate "channels" that directly support teaching and learning on critical topics such as dissent, equity, change, tolerance, and Black experiences. The 4.5 million educators using Discovery Education's digital services also receive support from the Discovery Education Community, a global network of education professionals who share innovative teaching practices.
In addition, Discovery Education launched Equity Talks, a national webinar conversation series with education leaders. Equity Talks unpacks issues of equity and excellence, especially in light of the Covid-19 pandemic, recent civil unrest, and the need to rely on remote and hybrid learning.
Creating Communities of Change. As many districts struggle with the impact of Covid-related funding challenges, Discovery Education is creating innovative public-private partnerships that support districts in closing equity and access gaps. These Discovery Education partnerships feature collaborations between some of the nation's largest school districts with leading companies and foundations committed to community engagement. Examples include the Los Angeles Unified School District and the Annenberg Foundation, Nevada Gold Mines and their work supporting students across the state of Nevada, the Subaru of America Foundation partnering with schools in Camden, NJ, and Prudential Financial supporting schools in Newark, NJ.
In addition to these community-based partnerships, Discovery Education continues to focus on the critical role STEM plays in fostering student achievement. Leading a convening of like-minded industry leaders committed to the vision of creating a diverse STEM workforce pipeline, the STEM Careers Coalition is the first-of-its-kind national STEM initiative powered by corporate leaders and anchored in schools by Discovery Education. Earlier this year, the Coalition – including partners such as Microsoft, Chevron, Boeing, and API – introduced new careers content focused on diversity in STEM. Additionally, the STEM Careers Coalition welcomed new partners including the Caterpillar Foundation, Proctor & Gamble, and the American Society for Mechanical Engineering to their shared vision of addressing the STEM workforce by bridging industry and classrooms at unprecedented scale.
Emphasizing Social Emotional Learning. To help students thrive in challenging times and in any learning environment, Discovery Education has introduced comprehensive social emotional learning (SEL) resources in a dynamic SEL Center to support students, teachers, and families. Through partnerships with LG, Wings for Kids, The AllState Foundation, Unilever and Kaiser Permanente, Discovery Education provides best-in-class, standards aligned digital content to equip youth with the skills necessary to reduce stress and discover the key pillars of emotional intelligence, along with tools to support culturally responsive teaching. This focus helps foster healthy identity development in students while also building educator capacity to put students in the center of their development. As part of this support for teachers and students, Discovery Education has also amplified resources created in partnership with best-in-class social justice and human rights leaders, such as the USC Shoah Foundation and Robert F. Kennedy Foundation.
Educators and students called out for support and Discovery Education is heeding that call. For years to come, the world – including the workforce of tomorrow – will feel the impact of the disruptions to learning, the challenges of equity of access to real-world content that contextualizes today's world. Bold, scalable partnerships that meet teachers and students where they are will be a necessary focus in 2021 and beyond. As a leader in education, Discovery Education is playing a critical role in spotlighting the conversations we need to have and in bringing together a community of leaders to meet the challenges head on.