Philip Morris International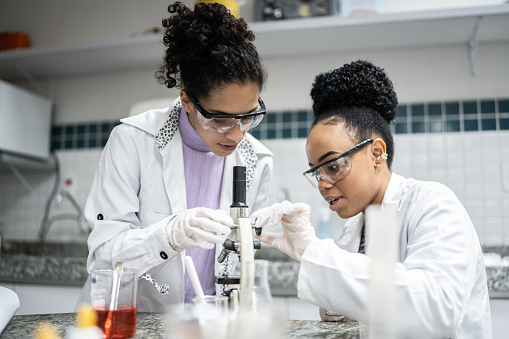 Transforming for Good: Philip Morris International (PMI)
PMI's transformation
Since 2016, PMI has set a new course for the company—staking its future on replacing cigarettes with scientifically substantiated, less harmful alternatives. To date, it is the only company within the traditional international tobacco industry to have committed to phasing out cigarettes, encouraging adult smokers who would otherwise continue to smoke to switch completely to better alternatives. In addition to expanding its leading position in the smoke-free category, it now also seeks to broaden its value proposition in wellness and healthcare products with the aim of having longer term a net positive impact on society.
Why is PMI doing this? More than 1 billion people worldwide smoke cigarettes. Measures to deter initiation and encourage cessation are fundamental. The best option is to quit tobacco and nicotine altogether or even better – not to start. But for the large population of existing adult smokers who'd otherwise continue smoking, there has to be a sensible plan. According to the World Health Organization, there will still be more than 1 billion smokers in 2025. PMI wants to provide those among these billion-plus adult smokers, who do not quit, with better options than continuing to smoke cigarettes.
Anchoring Sustainability at the Core of Strategy
The company understands the need to continue to build legitimacy and trust by being honest, respectful, fair, and transparent and by aligning actions with words across all areas of its business. To assess the impact of its current and future value chains on society and the environment, PMI regularly conducts sustainability materiality analyses and measures and reports performance through financial, environmental, and social metrics that are key to a sustainable corporate strategy.
It dedicated much of 2021 to strengthening governance and better integrating sustainability into corporate strategy. PMI's approach to sustainability addresses its environmental, social, and corporate governance (ESG) priorities through eight impact-driven strategies. Four of these strategies focus on the impacts derived from its products and the remaining four strategies focus on the impacts derived from its business operations. The strategy highlights the importance of governance-related topics; the company's policies, rules, and procedures define PMI's ability to implement sound strategies that successfully address environmental and social issues. As sustainability matures and gains importance inside and outside the company, the question of how to measure ESG performance is something many continue to grapple with.
Measuring What Matters
Business transformation is a very company-specific journey, which ESG reporting standards do not properly capture. To make its progress both measurable and verifiable, PMI developed Business Transformation Metrics, a set of key performance indicators (KPIs) composed of both financial and nonfinancial metrics. They showcase how the company is allocating resources away from its traditional cigarette business as it advances toward a future in which it no longer makes or sells cigarettes.
By reporting periodically on these KPIs, PMI enables external scrutiny and allows stakeholders to assess both the pace and scale of the transformation. Over the years, in response to stakeholder feedback, it has significantly expanded the number of metrics to increase transparency and clarity about the company's progress. It reviews them periodically to ensure it continues reporting on meaningful indicators.
Sustainability Index
During 2021, PMI developed a Sustainability Index to measure and communicate progress toward achieving its 2025 Roadmap in a rigorous and quantitative manner, using a set of clearly defined and verifiable metrics.
Further, the introduction of the Sustainability Index creates an explicit link between ESG performance and the company's long-term executive compensation scheme.
The Index —referred to in PMI's 2022 Proxy Statement and further described in the 2021 Integrated Report—comprises 19 KPIs that are directly linked to PMI's 2025 Roadmap goals. The mechanics of the Index and details of its KPIs are included in a separate publication, called the ESG KPI Protocol.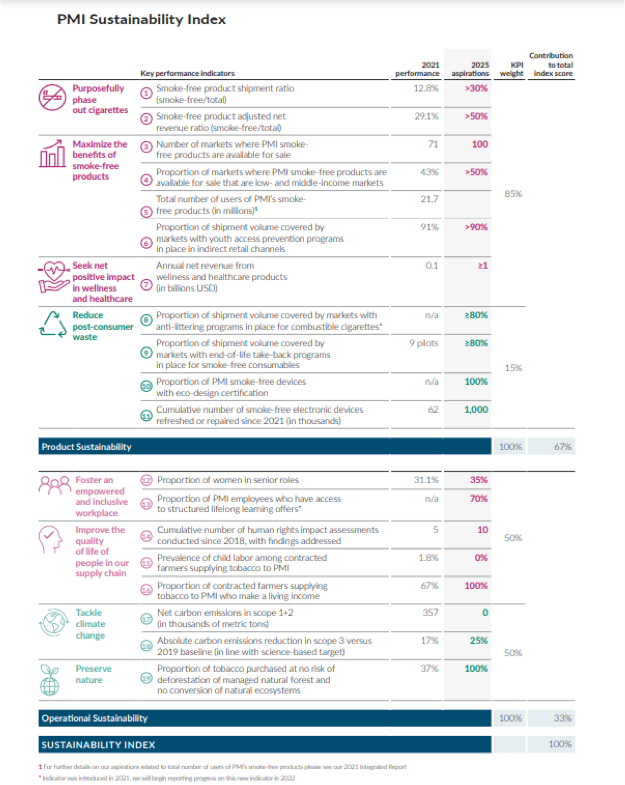 ESG KPI Protocol
Non-financial information is increasingly being used by external stakeholders to assess and compare a company's performance, including by the financial community to inform their analyses and investment decisions. It is key to the integrity of PMI's reporting that the information and data that it publicly discloses accurately reflect the company's performance, following clear calculation methods.
However, unlike financial accounting standards, and despite evolving practices, currently there are few industry norms or globally recognized practices for measuring and evaluating non-financial performance. Consequently, standard-setters and regulators are working towards the creation of clearer guidelines and requirements for the disclosure and assurance of non-financial information.
PMI's ESG KPI Protocol establishes a framework, which is specific to its company and clearly defines KPIs that can provide the organization with a method for making the connection between the company's purpose, strategic direction, financial performance, and environmental and social considerations. It includes the definitions, methodology, and scope of each of the Sustainability Index's 19 KPIs to provide measurable, verifiable, consistent, and accurate reporting on progress.
Externally, the Protocol helps ensure that the ESG data PMI discloses is reliable, comparable, and meaningful, allowing stakeholders to assess and track progress in a consistent manner over time.
Internally, the Protocol offers clear guidelines on ESG data management to support integrated decision-making within the company, accounting for both financial and non-financial information.
PMI measures and reports ESG performance primarily through its annual Integrated Report and on an ad-hoc basis in other external communications. To prepare the annual Integrated Report, data is collected through a central repository and approved by data-owners through a system workflow prior to publication.
"…At PMI, we are committed to continuously improving the way we track and report on our company's performance, taking a holistic approach that not only covers our inputs and activities but also focuses on where we can have the greatest impact: our products. Following the introduction of our 2025 Roadmap … our Chief Sustainability Officer now leads the work to strengthen the development of ESG-related key performance indicators linked to our sustainability targets. With these KPIs, we seek to clarify and standardize the approach we take with our nonfinancial performance data to continue building sophistication and expertise as they are also a key driver of PMI's corporate strategy, capital allocation, and operations.
We expect this work to further enable us to account for both tangible and intangible assets, understand how to minimize negative externalities and maximize positive ones, and, by extension, better manage our company's performance. We are exploring better ways to comprehend and measure our impacts."
– Excerpt of Chief Financial Officer Emmanuel Babeau's letter in PMI's Integrated Report 2020 p 127