Regeneron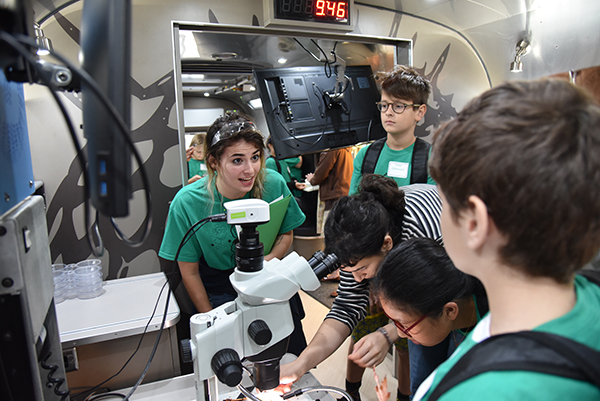 In 1992, as with many corporations, Regeneron, a leading biotechnology company, participated in "Take Your Daughter to Work" day. While the annual event was successful with 20 children coming to tour the space and meet some of the company's scientists, Regeneron wanted to expand it to include both genders and to really light a fire in the minds of future scientists.
And with that, Kids' Day was born. In 2004, the first Regeneron Kids' Day attracted 56 children from 3rd to 12th grade. The overall focus was to explain what biotech means by bringing to life its real-world application. Activities included making silly putty or liquid nitrogen ice cream for elementary and middle schoolers, and protein science or digital graphic arts for high schoolers.

Despite the success, coordinating Kids' Day required an incredible amount of work, and, as a result, the program was not a consistent annual event. In 2010, Dr. Susan Croll, Neuroscience and Postdoctoral Program Senior Director, decided to volunteer her time to help with the event. Susan fleshed out a three-year framework that rotated themes so children would always have a different experience, and the planning burden for Regeneron employees could be alleviated.
From the beginning, Kids' Day has been the product of collaboration across employees, including Corporate Communications, Facilities, Environmental Health and Safety, and employee-volunteer division coordinators who were tasked with driving the programming and overseeing implementation.
Over the years, the program has included experiential additions, such as the BioBus, an immersive, hands-on laboratory in a school bus, and Museum Without Walls, which conducts experiments such as unraveling the mysteries of DNA. The program diversity showcases the various ways that science impacts the world, and it helps attract and engage children of varying interests.
The day after Kids' Day, emails from parents flood in to the organizers, relaying how a son talked about his experience all the way home and refused to go to bed without wearing his Regeneron Kids' Day backpack, or how a daughter collapsed into bed because she was so utterly exhausted.
"Our dream when we started Regeneron was to build a company where the scientists would be the heroes," stated Len Schleifer, M.D., Ph.D., Founder, President and Chief Executive Officer, Regeneron. "We want scientists to be the next generation's heroes and to develop a pipeline of talent, starting at a young age."
At the Tarrytown campus alone, Regeneron Kids' Day now involves 600+ students, requires at least 150 employee volunteers and costs about $30,000 for food and supplies. Inspired by the program's success, the planning team has grand visions for what may come next — from creating more creative experiments for all ages, to systematically hosting the program across all sites (including the UK and Ireland!), to creating science kits as a way for employees to take the curriculum more formally out into the community.