Simplifying Strategy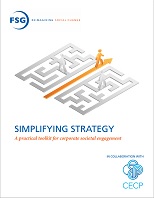 A Practical Toolkit for Corporate Societal Engagement 
This strategy toolkit, developed by FSG in partnership with CECP, is custom built to enhance the clarity, coherence, and impact of corporate societal engagement.
Visit the FSG Simplifying Strategy web page.  
Top Takeaways
Executives charged with corporate societal engagement have difficult jobs—navigating ever-changing expectations, a maze of competing priorities, and the need to deliver fast results with limited resources.
These executives seek to transform their portfolios from legacy giving to results-focused and business-aligned societal engagement. Doing so requires intentionality, inquiry, and investment tailored to their companies' unique needs.
Based on FSG's work with over 100 companies, they have developed three strategy tools that serve as critical guides for companies in their journey toward enhanced clarity, coherence, and impact:
Intent Matrix: A customizable mapping of business motivations (why?) and engagement approaches (how?)
Issue Monitor: A dynamic and multi-dimensional process for prioritizing issues
Impact Models: A set of clear and distinct options for engaging on chosen issues
"It is important to clearly define the objectives of your CSR strategy and to align them to your company's business objectives and goals."  Boeing corporate citizenship executive
Visit the FSG Simplifying Strategy web page.