Systemic Investments in Equity, Talent and Tech – When Establishing a Tech Hub is the Objective
Date: April 17, 2018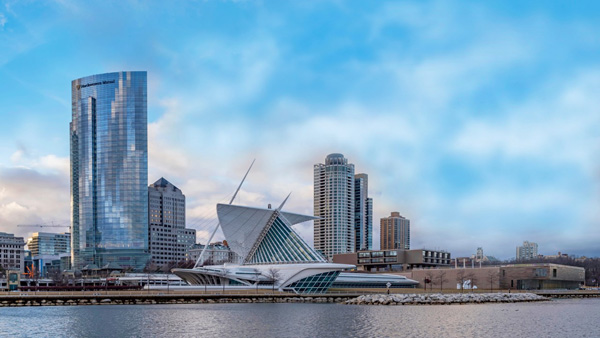 The third meeting of the CECP Systemic Investments in Equity, Talent and Tech Accelerate Community took place recently at the headquarters of Northwestern Mutual (NM) in Milwaukee, Wisconsin. NM is launching an ambitious collective impact agenda to transform Milwaukee into a "tech-hub".  The company's leadership is driven by the keen understanding that they cannot grow their tech workforce in isolation. Their basic business case is that their individual success lies in the collective success of the city. However, in order for progress to be achieved, they cannot go it alone. There was unanimous agreement among members of the community that they are all confronting this basic reality – the business case for expanding and diversifying the tech workforce requires investment in the broader structures that engender equity.
Addressing the challenges of workforce development with this collective approach framework raises critical questions that are central to the equity agenda:
How can companies effectively integrate broader city objectives into specific internal business cases for philanthropic and program support?
How honest can individual companies be in weighing the real equity challenges that have to be addressed in a city against the projection of hope and promise for the new workforce that it needs?
Who assumes the role of convener?
Whose responsibility is it to make sure that issues of equity are addressed across the spectrum of partners in meaningful, measurable ways?
For all members of the community there was recognition that the health and diversity of their future workforce are directly linked to the strength of the ecosystems in which they exist. This thinking is supported by a growing research agenda at the National Science Foundation, NSF INCLUDES. It is an effort to engage multiple partners to honestly and directly confront the complex issues that have the potential to yield a richer and more welcome city and ultimately a more diverse and sustainable tech workforce.
At a time when the demographics of American cities are changing dramatically, the fates of U.S. companies are linked to the fates of their host cities. The challenges related to diversifying the tech workforce are embedded in age old patterns of segregation that, among other critical sectors, are reflected in educational institutions. These patterns fundamentally affect the ability of cities to offer equitable infrastructure to yield equal opportunities to all students and people.  The collective approach confronts this reality head on.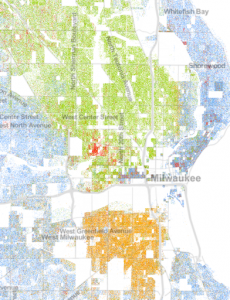 Figure 1 Demographic Map of Milwaukee. Green dots  – black people,  Blue dots – white people, Yellow dots- Hispanic people, Red dots- Asian people
The Collective Approach
This approach to diversity, inclusion and equitable talent acquisition is holistic. It incorporates the entire spectrum of corporate engagement that the community is committed to. Social change frameworks like collective impact and network improvement communities are methods based on the premise that only through partnership can the development of a diverse and sustainable tech workforce be achieved. Transforming any major American city into a tech-hub where all residents, regardless of race and class, have equal opportunity to engage is one of the grand challenges facing the CECP community and American firms generally.
What to do?
This meeting was characterized by unusual candor among the participants. Members of the community expressed that while their efforts towards diversity are sincere, they face the contextual challenge that we all face – inertia.  Many companies have:
thrived for decades, and sometimes more than a century, with a U.S. workforce that is homogenous – predominantly white and, predominantly male. Many continue to thrive despite this homogeneity.
comfortably existed in cities that are largely segregated by race and class and continue to.
traditionally drawn employees from educational institutions that reflect the broader societal segregation.
attempted to diversify their workforce and develop internal sensibilities in a social environment that largely reflects neither of those virtues.
It was clear to all that this pattern cannot continue if US-based companies that rely on tech workforces are to remain US-based. Research confirms that these patterns are not sustainable and the shear shift in the demographics of the country and in individual cities guarantees that the future cannot be like the past. Not only is diversity a challenge, the number of Americans with STEM training, regardless of race or class, is not growing fast enough to meet industrial needs.
The community agreed that while there is no silver bullet to this complicated American problem, there are actionable items that Milwaukee's example yields:
The business case for this work has to be interwoven into a broader context. Clear examples of how to do that surfaced among members of the community.
Partnerships with organizations that address specific parts of the equity landscape that are beyond the scope and expertise of company programs are critical.
Identifying and funding a convener whose responsibility it is to organize and monitor collective change is essential.
We look forward to sharing further examples of these actionable items at the CECP Summit and in a forthcoming white paper resulting from the engagement of companies in this Accelerate Community. In the end, this is a long-term commitment. The confluence of social, demographic and technical challenges on the country and its companies are unique to the 21st century. Only through a collective approach can we arrive at an equitable solution.