Systemic Investments in Equity, Talent & Tech – Towards an Equity Lens
Date: October 17, 2017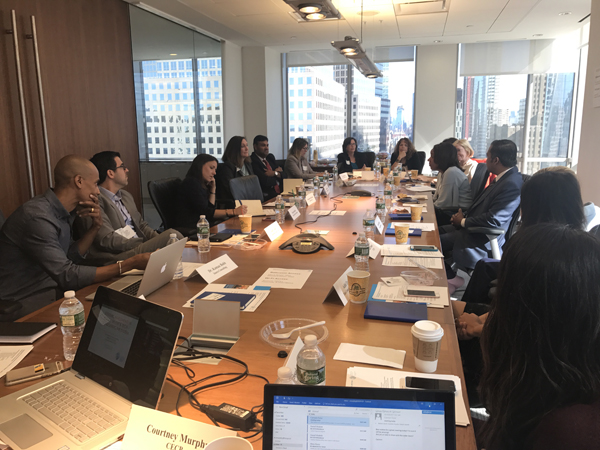 THE LARGER GOAL
Developing a robust and diverse technical workforce in the United States remains a critical national challenge. Addressing equity directly is a requirement for meeting that challenge. Federal guidelines established under the last administration have made the goal clear. In response, U.S. educational institutions, corporations and philanthropic organizations have targeted efforts to address this issue that sits squarely at the intersection of industry needs and social justice. At the heart of the matter lie three compelling issues that fuse the needs of individual firms and the nation as a whole:
Individual firms need to meet their specific workforce demands in order to achieve industry specific competitive advantages, while;
the nation needs a highly skilled representative workforce in order for U.S. institutions to maintain global leadership in innovation and technology in the modern knowledge economy, and;
diversifying the workforce at all levels is required given the changing demographics of the U.S. population.
RECKONING WITH REALITY
Achieving these goals today requires direct reckoning with the divisive forces that bisect American life. The development of an effective and representative tech workforce is directly dependent on the existence of a functioning and equitable educational system. The nation has reached an inflection point where people of color are among the fastest growing segment of the American population. Coincident with that, the segregation that divides rigorous from required education is more correlated with race and class than it has been in generations. That is the reality we know – both by evidence and anecdote. Any attempt to diversify the tech workforce and address cultural inclusion for people once there must confront this reality.
In this context, the question to corporations across industries engaged in activities of corporate social responsibility and philanthropic giving to tech equity, is:
What problem are we trying to solve?
It is not the responsibility of the corporate sector to solve the social ills of the nation, however, the tension between short and long-term investments is ever-present. Are corporations trying to meet their specific, immediate and measureable workforce needs, or are they trying to contribute to improving long-term infrastructure that can produce a technically skilled talent pool more equitably? Most often, both. Here is where the distinction between equity and equality matters.
Challenges to equity:
–  segregation
–  rigorous ed
–  mass experiments
–  higher education
EQUITY VERSUS EQUALITY
The array of corporate sponsored programs designed to engage young people in k-12 and post-secondary STEM activities is expansive and many are successful in meeting their specific stated objectives. Yet, the needle is slow to shift in the diversity of talent at individual companies and in the tech sector as whole. It is slow to shift because offering equal access to engaging STEM-based opportunities is not equivalent to changing inequitable infrastructures or antiquated attitudes.
Students can have equal access to hackathons and robotics competitions, but still have inequitable long-term educational outcomes. Providing students equal opportunities for engagement in informal STEM activities is necessary, but insufficient to change students' trajectories. Students must be equipped with the substantive rigorous education that qualifies them for employment in technical roles in technical firms. Emphasizing more rigorous education for students, however, does not release individual people in corporations from responsibility in this challenge. The racial and gender bias that exists and retards access and success of people of color and women of all colors has to be named and confronted.
Equity is fairness, justice and the absence of bias. Equality is the equal distribution of some item or experience across a set of people or communities. Equity is more fundamental than equality and addressing it operationally is the next frontier in tech philanthropy.
WHAT'S NEXT?
In the space of philanthropic giving towards equity in tech talent, operationalizing equity itself is critical. The next phase for CECP companies committed to improving the tech landscape is the development of an equity lens through which to see, assess and discern giving in this space. That will require an honest assessment of the specific variables that affect equity. Working collectively such that informal learning opportunities are intentionally linked to formal learning in complementary ways is at the heart of such a lens. It is the only way for students' educational trajectories to change.
Inventories of STEM programs exist. The will and good intentions to make a difference are both abundant. There is also no shortage of resources being dedicated to this issue. The challenge to building equity in the tech sector is the inequity that is abundant and surging in contemporary American life. Now is the time to confront it directly. This series of articles will reflect the collective critical thinking of a subset of CECP companies that have opted to engage in developing and equity lens for systemic investments in equity, talent and tech.
To learn more about the Accelerate Community on Systemic Investments in Equity, Talent, and Tech, contact Courtney Murphy, Director, Strategic Partnerships.