Our Team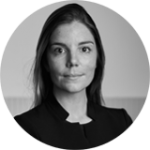 Alexa Yiğit
Senior Associate, Data Insights
As Senior Associate of CECP's Data Insights team, Alexa Yiğit focuses on advancing how CECP's clients use measurement and data as a tool to achieve success. Alexa is responsible for implementing the Giving in Numbers Survey, the industry's premiere questionnaire on corporate community relations, as well as coordinating and executing data collection, delivering digital data insights, and contributing to advisory services. Alexa also contributes to one-on-one company engagements in advancing the expansion of the use of existing data visualization platforms and interfaces with external vendors' contributions to improve the custom-built online system for CECP companies while ensuring data is delivered with a strong attention to data security.
Prior to CECP, Alexa was an Associate for Morgan Stanley's Global Sustainable Finance group, where she worked across the firm's core business segments to deliver innovative sustainable investing products and solutions for their firm's clients. As part of the Product & Solutions team, Alexa designed and implemented scalable strategies that proactively considered environmental social and governance factors, while seeking to achieve market-rate financial returns, alongside positive environmental and/or social impact. She brought to Morgan Stanley her background in Global Corporate Investment Banking and Capital Markets through her work as the Lead Associate for Santander Bank N.A.'s Telecom, Media, and Technology sector and as a Business Manager in Fixed Income Strategy for the Royal Bank of Canada, Debt Capital Markets in New York.
She holds a Master of Business Administration in Risk Management with a concentration in ESG Risk and Green Bonds, from the London School of Business & Finance and a Bachelor of Arts degree from Northeastern University with a dual major in International Affairs and History. Alexa is passionate about maximizing social impact through microfinance and Corporate Social Responsibility.