Our Team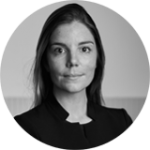 Alexa Yiğit
Sustainable Finance Lead, CEO Investor Forum
Alexa Yiğit is available for speaking engagements. Please download her speaker profile for details.
As Sustainable Finance Lead at the CEO Investor Forum, Alexa Yiğit focuses on bridging together the corporate and investor perspective on sustainable long-term business performance and financially material ESG issues across the capital markets. She is responsible for advising corporates on the evolving sustainable finance market and proactively engages with corporate executives on effectively aligning their ESG strategies with long term stakeholder expectations. Alexa also co-leads the team's ESG-related thought leadership to provide valuable insights on signaling long-term sustainable performance to investors.
Prior to CECP, Alexa was the Associate for Morgan Stanley's Global Sustainable Finance Product & Solutions division, where she worked across the firm's core business segments, Investment Management, Debt Capital Markets, Investment Banking and Wealth Management, to deliver innovative sustainable investing products and solutions for their firm's clients. As part of the Product & Solutions team, Alexa designed and implemented scalable sustainability strategies that proactively considered environmental, social and governance factors, while seeking to achieve market-rate financial returns, alongside positive social and environmental impact. She brought to Morgan Stanley her background in Capital Markets, Global Corporate Investment Banking and Credit Risk through her work as Relationship Manager for Santander Bank N.A.'s Telecom, Media, and Technology sector and as a Business Manager in Fixed Income Strategy for the Royal Bank of Canada, Debt Capital Markets in New York.
She holds a Master of Business Administration in Risk Management with a concentration in ESG Risk and Green Bonds, from the London School of Business & Finance and a Bachelor of Arts degree from Northeastern University with a dual major in International Affairs and History. Alexa is passionate about maximizing social impact through sustainable business practices.