Our Team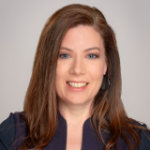 Beth Gallagher
Director, Corporate Insights
Beth Gallagher is an experienced social impact leader who serves as Director of Corporate Insights for Chief Executives for Corporate Purpose (CECP), a trusted advisor to companies on their corporate purpose journeys to build long-term sustainable value and tell their impact stories.
Beth leads a team that transforms and equips CECP's affiliated companies' corporate responsibility, sustainability, DEI, ESG, and related strategies with industry-leading tools, knowledge, and consultations to innovate and integrate purpose into business, teams, and results. The Corporate Insights team delivers fast-track consulting to corporate leaders on best practices and custom benchmarking, measurement advisory, connections to coalition companies, and other relevant insights and thought leadership. The Corporate Insights team also leads actionable research for the field, domestic and global partnerships to support research and thought leadership priorities and develops technology solutions to share insights with affiliated companies. Beth helps translate CECP's long-term vision for a better world through business into new understandings and opportunities for coalition companies to advance their growth and impact.
Prior to joining CECP, Beth served as Director of Community Involvement for Aon, a multinational professional services firm, where she led charitable giving programs and partnerships, grantmaking via the Aon Foundation, and employee volunteerism, including nonprofit board placement and the firm's annual global service day.
Beth is a Leadership Greater Chicago fellow since 2020, serves on the advisory board of Cause Strategy Partners, a Certified B Corp and is an avid volunteer. Beth holds a B.A. in English, with honors, from Portland State University and a master's degree in the Humanities from the University of Chicago.