Our Team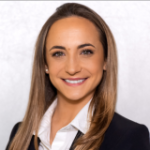 Brianna Murphy
Associate, Communications and Marketing
As Associate, Communications and Marketing at CECP, Brianna oversees a wide variety of projects including but not limited to coordinating the design of publications, managing the website, company communications outreach, and serving as an events manager for our annual Summit and Board of Boards.
Prior to CECP, Brianna worked at the Leukemia and Lymphoma Society (LLS) as a Campaign Specialist and Marketing Coordinator, overlooking participant fundraising as well as monitoring social media campaigns. Over the years she developed digital campaigns to raise money, help spread brand awareness, and recruit hundreds of volunteers and participants for LLS' annual events. Brianna continues to support the Leukemia and Lymphoma Society by participating in half and full marathons while raising funds to help find a cure for blood cancers.
The New Jersey native earned a B.A. from Susquehanna University in Communications focusing on Digital Multimedia Broadcasting. She was inducted into the Lambda Pi Eta National Communications Honor Society in 2015 and participated in the Varsity Women's Softball Program for four years, as well as the Varsity Women's Basketball Program for three.
She can be reached at bmurphy@cecp.co or on LinkedIn.