Our Team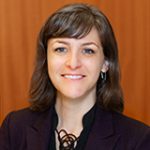 Carmen Perez
Senior Director, Data Insights
Carmen Perez is available for speaking engagements. Please download her speaker profile for details.
As CECP's Data Insights Senior Director, Carmen leads the high-performing team that achieves CECP's mission by equipping companies to make data-driven decisions in their societal investment strategies. This includes the publicly available pieces Giving in Numbers and Giving Around the Globe as well as custom and exclusive insights and benchmarking products for companies in CECP's coalition. Known for strong facilitation skills, Carmen presents publicly on CECP trends on a variety of topics, with a passion for benchmarking and evaluation of results. She has been quoted in Wall Street Journal and other major media outlets. Prior to her role as Director, Carmen catalyzed CECP's global research expansion through implementing the Global Guide reporting standard and creating and authoring the first edition of Giving Around the Globe. Carmen contributed to and led the coalition that created the new standard published in the Global Guide to What Counts, released in June 2011. During her tenure at CECP she has also professionalized how CECP provides benchmarking and personally prepared over 350 customized deliverables drawn from CECP's proprietary dataset for corporate community engagement professionals.
Carmen came to CECP with a track record as a results-oriented in-trepreneur. She joined CECP from the community economic development non-profit sector. Immediately previous to CECP, she successfully organized and chartered a federal credit union (FCU) in Long Island City, Queens public housing community where she then served as their first CEO. Her background also includes work in the microfinance (built a suite of services for West African entrepreneurs) and small business development fields, as well as experience in data analysis and project management (she organized and implemented the first-ever Shred Fest event) for the City of New York, Department of Consumer Affairs. Carmen holds a Masters in Public Administration, Financial Management Specialization, from the NYU Wagner School of Public Service and a Bachelor of Arts degree from University of Wisconsin-Oshkosh with a triple major in International Studies, Political Science, and French. Carmen has volunteered her personal time regularly since high school, most recently with Sunnyside Community Services in her Queens neighborhood.