Our Team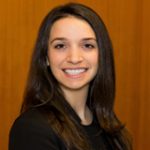 Emily Parlapiano
Associate Manager, Strategic Investor Initiative
As the Associate Manager to CECP's Strategic Investor Initiative (SII), Emily leads the development and strategy for SII's operations while supporting the initiative's next phase of growth through program and event management, fundraising, and research. With a mission to help corporate leaders become a force for good in society, SII events and resources are utilized by Fortune 500 CEOs and leading investment firms to deepen investor understanding of companies' plans for managing their growth, strategy, and risk relative to long-term value creation and financially material ESG factors.
With over 5 years of private sector experience, Emily brings expertise in sales, project management and research from her time as a Relationship Manager with both Thomson Reuters and S&P Global to CECP. Passionate about social impact, Emily transitioned out of Financial Services and worked as the sole Program Manager with the David Rockefeller Fund where she led programmatic research, grantee funding decisions, and the semi-annual meeting of the board.
Emily earned a BA from Villanova University, joining the newly created Peace and Justice program. While there, she researched social movements, authored qualitative research reports and worked with the growing Service Break Program – leading international service trips and consulting on the program's efficiency and impact.
Emily is native to NJ and currently lives in Hoboken. She is an avid reader, dedicated volunteer and will be running her first NYC Marathon in 2018!
She can be reached at eparlapiano@cecp.co or on LinkedIn.