Our Team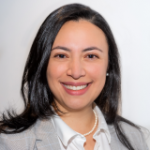 Estefania Betancourt
Senior Associate, Company Insights
As Senior Associate of Corporate Insights, Estefania provides thoughtful and timely content, through CECP's fast-track consulting process. She works cross-functionally with CECP's five Centers of Excellence: societal/community investment; employee engagement; environmental social governance (ESG)/sustainable business; diversity, equity, and inclusion (DEI); and telling the story, to ensure that our Companies are receiving qualitative content. Estefania also supports the Organization's knowledge Management Strategy and the Global Exchange Partnership.
Prior to CECP, Estefania worked as a mental health clinician providing psychotherapy treatment and crisis intervention for people with developmental disabilities and their families in New York. She has worked with Columbia School of Social Work's (CSSW) Office of Diversity, Equity and Inclusion and the Office of Professional Excellence, assisting with the development of new material and content for students, staff members and social workers. Estefania has worked with CSSW as Teacher Associate for Legal Foundations and Social Welfare Policy.
Estefania worked for 7+ years in the Corporate Social Responsibility field, at El Alcaraván Foundation – charitable arm of Occidental Petroleum Corporation in Colombia. Here she supported the implementation of different quality improvement metrics to analyze community development, reported on the Environmental, Social and Governance (ESG) aspects of the Foundation, served as the secretary of the Foundation Board of Directors and oversaw the administrative areas including legal, resource management, HESQ, human resources and communications.
Estefania has a master's degree in Social Enterprise Administration from Columbia University's School of Social Work and a master's degree in International business management from Barcelona University. Currently Estefania is pursing a Masters in Law and anticipating to sit in the New York State Bar exam in 2023. Estefania is passionate about making structural social change through Corporate Societal Investment.