Our Team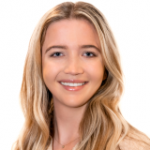 Helen Rue
Associate Manager, Coalition Engagement
As Associate Manager, Coalition Engagement, Helen advances CECP by leading growth-oriented strategies in relationship management, sponsorship, and other engagement opportunities for CECP companies.
Prior to CECP, Helen was Partnerships Manager at (RED), the non-profit organization founded by Bono and Bobby Shriver, working on partnerships across (RED)'s family of iconic brands to ensure they generate maximum impact for the fight against HIV/AIDS and COVID-19. She collaborated with a wide array of brands to bring powerful cause-marketing campaigns to life, including Apple, Amazon, Band-Aid, Calm, PayPal, Roche Diagnostics, and Vespa.
Helen earned a B.A. from University of Southern California in Philosophy with a minor in Business Law. Helen is passionate about harnessing the power of business and cross-sector partnerships as a force for good.