Our Team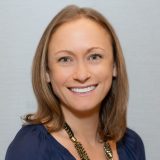 Jackie Albano
Director, External Affairs
Jackie Albano is available for speaking engagements. Please download her speaker profile for details.
Jackie Albano is Director, External Affairs, leading CECP's mandate to advance the CEO Force for Good movement through thought leadership and external communications efforts. Levering her cross-sector communications experience, Jackie works with journalists from global print and digital publications, press teams from CECP companies, and relevant partners to build CECP as the go-to authority and source for corporate social engagement information, including programs, events, research, and thought leadership. Jackie also manages CECP's multimedia resources, social media channels, and the blog, CECP Insights.
Prior to joining CECP, Jackie was Communications Manager at the Department of Information Technology and Telecommunications (DoITT), New York City's technology agency. As part of a small external and intergovernmental affairs team, Jackie managed a broad spectrum of day-to-day and long-term strategic communications for DoITT, and was involved with the launch of LinkNYC, bringing the world's fastest free municipal Wi-Fi to New York City.
Jackie's depth and breadth of communications expertise and nonprofit work have been gleaned from positions at New York magazine, Ogilvy Public Relations, and the Correctional Association of New York, one of the oldest independent non-profit organizations, advocating for a more humane and effective criminal justice system.
In 2008 Jackie earned a M.A. in Public Administration from NYU's Robert F. Wagner School of Public Service, with a specialization in International Management and Public Policy. She holds a bachelor's degree in Sociology from University of Colorado, Boulder. Jackie has served as President of the New West 123rd Street Block Association and is an active member of her community garden.