Our Team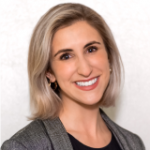 Jessica Caracciolo
Events Associate
Jessica serves as the Events Associate at CECP. She oversees a wide variety of events including CECP's in-person marquee events and smaller in-person and virtual convenings. You'll see Jessica on the front lines – interacting with executives at leading companies who are infusing purpose throughout their business strategy. She strives to bring vision and best practices to CECP's events.
Jessica graduated Magna Cum Laude from Ithaca College in 2014. From there she began working for Goldman Sachs as an Operations Analyst supporting numerous trading desks, as well as their margin and collateral business. In 2017, she decided to leave Goldman to pursue her lifelong dream of being an actor. She spent the past 2 years performing at regional theaters around the country in shows such as Annie, Hairspray, The Rocky Horror Show, and Mamma Mia!
In her free time, Jessica is extremely involved in her hometown community in Staten Island. For the past 3 years she has served as Co-Chair of the Sunrise Day Camp's annual "Sunshine Sunday" event. She is also a proud Founding Board Member of the Minty Organization for the Performing arts, as well as a staff member of the Staten Island Children's Theatre Organization. Jessica has also served as the Event Coordinator for Animal Lighthouse Rescue. She recently received Community Service Awards and honors from the JCC and Wagner College.
Jessica has a passion for serving and helping those around her. She recognizes the value and importance of in-person and online events, and is excited to uphold CECP's standard of excellence in her new role as Events Associate.