Our Team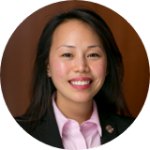 Jinny Jeong
Manger, Corporate Leadership & Company Services
As the lead for the company services team, Jinny partners with Fortune 500 corporate citizenship executives to make data-driven decisions in their societal investment strategies focused on a range of environmental, social, and governance (ESG) issues. This includes creating custom benchmarking and analyses, representing CECP through speaking engagements, and being a trusted advisor to companies on topics such as employee engagement, corporate purpose, corporate social responsibility, community engagement strategy, and impact measurement. Jinny also leads the advisement of business and social impact and the strategy for diversity, equity, and inclusion research through CECP's Accelerate Community, as well as the program design for CECP's national roundtable series.
Prior to CECP, Jinny has worked with several nonprofits and regional initiatives championing environmental and urban sustainability. She was formerly the Operations Manager at TerraCycle, a social enterprise and global leader in eco-manufacturing, where she partnered with corporations to measure and achieve "zero-waste" and other sustainability initiatives, diverting 10+ million pounds of packaging waste from landfills.
Jinny is a Senior Fellow with the Environmental Leadership Program (ELP) and a StartingBloc Social Innovation Fellow. She holds a MPA from NYU Wagner School of Public Service and a BA from Villanova University. She currently resides in Boston, MA.