Our Team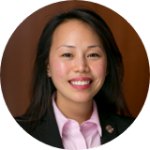 Jinny Jeong
Associate Manager, Company Services
As Associate Manager of CECP's Data Insights team, Jinny leads the efforts for CECP's 15-year legacy as a research leader through two distinct and annual data collection initiatives: "Giving in Numbers" and "Giving Around the Globe". These two reports provide the basis for industry-leading global insights on corporate societal engagement. She also plays a key role in providing custom analyses, webinars, and presentations to companies using CECP's data insights. She joined CECP in 2014.
Jinny has worked with many nonprofits and regional initiatives including the Clinton Foundation and C40 Cities Climate Leadership Group. She was also the Operations Manager at TerraCycle, a social enterprise and global leader in eco-manufacturing, where she worked closely with corporations to measure and achieve "zero-waste" and other sustainability initiatives.
Jinny is a Senior Fellow with the Environmental Leadership Program (ELP) and a StartingBloc Social Innovation Fellow. She holds a MPA from NYU Wagner School of Public Service and a BA from Villanova University.