Our Team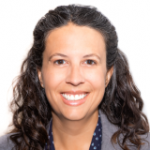 Kate Stobbe
Director, Corporate Insights
As Director of Corporate Insights, Kate advances CECP's ability to empower companies on their purpose journey. Leveraging her 10+ years of CSR practitioner experience and training in strategic foresight, Kate also works with strategic partners to identify areas of research to advance the field.
Prior to CECP, Kate worked on the Digital Services team at United Way Worldwide, providing subject matter expertise and insights to help advise UWW corporate partners in their CSR efforts, create value-add products, and worked with the broader United Way network in their efforts to better serve their partners.
Kate worked in corporate social responsibility for 10 years at several large, multi-national companies headquartered in Chicago, IL and Denver, CO. In her roles, she focused on strategy, employee engagement, ESG reporting, and corporate philanthropy.
Kate obtained a graduate certificate in Philanthropy and Nonprofit Management from Loyola University Chicago and a Bachelor of Arts in Political Science from Luther College. She is passionate about climate change, DEI, and education as well as home improvement projects and traveling with her family. She calls Livermore, California home where she lives with her partner and two young children.