Our Team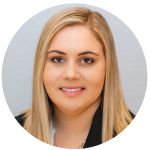 Kimberly Levinstein
Senior Associate, Corporate Strategy & Impact
As Associate, Company Relationships at CECP, Kim manages the coordination of member engagement, annual meetings, and growth of the CECP coalition.
Prior to CECP, Kim worked in direct mental health services in underserved communities in Harlem and other areas of New York. She helped support the growth of communities through individual support and systemic interventions. While working in direct service she developed a passion for encouraging change at a macro scale, which led her into the Corporate Responsibility space.
The Virginia native earned a B.A. from the University of Virginia. She also went on to earn a Master's Degree in Social Enterprise Administration from Columbia University. Social Enterprise Administration (SEA) students develop competencies in major managerial, administrative, and program operation tasks so that they may strengthen the effectiveness of non‐profits, public agencies and other social enterprises.