Our Team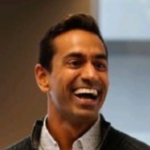 Mandeep Jangi
Senior Manager, Strategy and Growth
Mandeep serves as a Senior Manager on the Strategy & Growth team, where he helps CECP determine where and how to grow its offering and impact for our affiliates. Mandeep's primary emphasis is on CECP's Sustainable Business offering, which guides our affiliates on their journey to focus companies and investors on the long-term to create sustained value. He provides similar guidance to CECP's additional thematic offerings – Diversity, Equity & Inclusion, Employee Engagement, Societal/Community Investment, and Telling Your Story.
Before CECP, Mandeep served in the United States Peace Corps in Namibia, where he supported his community in establishing programs to develop the entrepreneurship, business management, and leadership skills of community segments. He also helped direct the local Peace Corps office's intercultural competence, diversity, and inclusion initiatives.
Prior to Peace Corps, Mandeep worked at Vanguard, including in the fund financial analysis and culture, diversity & engagement areas. Additionally, he led initiatives to advance enterprise diversity & inclusion and corporate social responsibility objectives, such as lesbian, gay, bisexual, and transgender inclusion, diverse talent recruitment, employee engagement, skills-based volunteerism & non-profit board service, and youth mentoring.
Mandeep is a Fundamentals of Sustainability Accounting (FSA) Credential Holder. He received his Bachelor's degree in finance from Penn State University and MBA from Esade Business School, where he served as president of the student association. Mandeep is passionate about leadership, service, and inclusion and is a proud to be an uncle to four nephews and one niece and son of immigrants from Punjab, India.