Our Team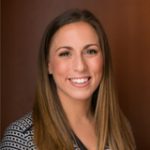 Michelle Bostwick
Senior Associate, Corporate Leadership
As Senior Associate of CECP's Corporate Leadership team, Michelle leads the execution of CECP's Company Services and Relationship Management strategies through overseeing and delivering on company insights requests including data solutions, fast-track consulting, Knowledge Center research and leading company support and outreach. She also leads logistics for CECP's annual Summit and outreach for Giving in Numbers research. Michelle first joined CECP in 2015 as the John C Whitehead Fellow.
Michelle has gained valuable experience working in both the non-profit and corporate sectors. Her past responsibilities have been dedicated to supporting corporate responsibility and sustainability goals throughout various organizations, as well as integrating ESG considerations into core business activities.
Michelle earned a M.S. in Sustainability Management and program fellowship from Columbia University, and holds a B.A. from Franklin and Marshall College in Environmental Studies and Economics.