Our Team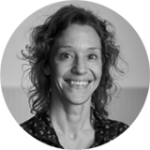 Sarah Bostwick Stromoski
Senior Manager, CEO Engagement, CEO Investor Forum
Sarah Bostwick Stromoski is available for speaking engagements. Please download her speaker profile for details.
Sarah is a sustainability practitioner interested in helping business drive sustainable development by becoming more competitive. In her capacity as Senior Manager, CEO Leadership at CECP, she creates strategy to deepen CEO engagement across the 200 leading companies that comprise CECP's community and brings to life an ambitious schedule of opportunities that showcase and involve Fortune 500 CEOs in CECP's mission of business as a force for good.
She holds a seat on the International Integrated Reporting Council's (IIRC) Framework Panel. Previously, Sarah kept pulse on macro-level trends and shaped global policy on sustainability transparency and disclosure for some 8000 companies as Manager, Reporting at the United Nations (UN) Global Compact. She managed institutional partnerships with other policy leaders such as IIRC and GRI. She also co-lead the New York City chapter of Women Investing for a Sustainable Economy (WISE).
In addition, she piloted projects that drive integration, valuation, & communication of ESG issues in mainstream financial markets (e.g., stock markets and investor relations) while co-coordinating the UN's Sustainable Stock Exchanges initiative during its transformative growth phase. Prior to the UN Global Compact, Sarah led strategic and operational sustainability projects in the civil sector at AIESEC, and in the private sector as a consultant at BSD Consulting, particularly in Latin America. She now lives in New York City and spends her free time being a resident tourist.