Our Team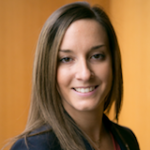 Alison Vultaggio
Manager, Corporate Leadership
As Manager of CECP's Corporate Leadership team, Alison connects CECP's community of leaders in corporate citizenship and philanthropy with the tools, best practices, and insights to accelerate progress towards their societal goals while driving business performance.
A trusted advisor to the corporate giving community on topics such as employee engagement, signature program strategy and international grant-making, CECP's Corporate Leadership Team provides guidance to companies in the form of fast-track consultative support, peer to peer introductions, strategy brainstorming and connection to CECP and external resources.
Alison sets the agenda for the annual CECP Summit and facilitates peer-to-peer forums on emerging trends in the field including by industry, issue, and geography. Since joining CECP in 2009, Alison has played a critical role in CECP's organizational and strategic planning as well as informing CECP's programming and research, including managing the CECP Engage Constituent Voice Project, aimed at creating a culture that cultivates and responds to feedback. Alison holds a BA in Corporate Communications from Manhattan College.