Our Team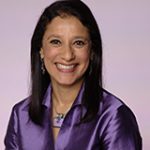 Nandika Madgavkar
Senior Director, Strategy
As Senior Director of Strategy, Nandika Madgavkar focuses on developing and implementing effective business solutions to advance CECP's mission. She is responsible for forging new and deepening current relationships with CECP's network of partners, expanding and driving new Advanced Advisory opportunities and Accelerate Communities for CECP, and supporting and scaling CECP's Strategic Investor Initiative and CEO Investor Forums to help create long-term business plans for publicly traded large-cap companies.
Nandika has served in leadership roles in corporate responsibility for 15 years, focusing on strategy, reputation management, employee engagement, executive communications, and brand development. Most recently, Nandika was responsible for promoting MetLife's Corporate Responsibility efforts both in the U.S. and globally. In this position, she was responsible for building a strong brand presence, overseeing effective internal and external communications, and ensuring MetLife's Corporate Responsibility efforts are aligned with the company's core values. In addition, Nandika was the primary communications and media partner for MetLife Foundation executing on maximizing its brand and community impact globally.
Prior to joining MetLife, Nandika managed internal and external communications for Citi's Community Development and Microfinance departments. As the communications liaison for the business, Nandika was responsible for maximizing Citi's community impact both in the U.S. and internationally. She managed this through a variety of traditional and digital media such as radio, television, print and social media. She joined Citi in April 2003.
Nandika has also worked as a journalist in India. She was a reporter for major English-language dailies like, The Times of India, The Statesman, and The Telegraph, and contributed regularly to a political weekly magazine, Sunday.
Most recently, Nandika served on the board of the United Neighborhood Houses of New York City, and was Executive Advisor to the Global Multicultural Professionals Network at MetLife. She is passionate about gender issues and human rights.
Nandika received her Bachelor of Arts in History and Master of Arts in Political Science from Delhi University, India.