Our Team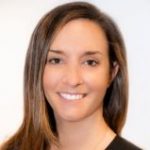 Alison Vultaggio
Director, Corporate Engagement
As Director of Corporate Engagement, Alison leads CECP's company insights team and related services. This team provides CECP's community of leaders in corporate citizenship and philanthropy with the tools, best practices, data and insights to accelerate and drive their social strategies.
A trusted advisor to the corporate giving community on topics such as employee engagement and purpose, signature program strategy, business integrations and international grant-making, CECP's Corporate Leadership Team provides guidance to companies in the form of fast-track consultative support, peer to peer introductions, strategy brainstorming and connection to CECP and external resources, including through our proprietary Knowledge Center.
Alison also sets the agenda for the annual CECP Summit, developing and driving sessions on emerging trends in the field. The Summit is regarded as the must-attend event in the space, and is an experience that brings together more than 250 corporate leaders who drive social strategies at the world's largest companies. Speakers and fellow attendees engage and learn together, offering powerful insights on trends, partnerships, and the business case to advance companies' role as a force for good in society.
Since joining CECP in 2009, Alison has, and continues to play, a critical role in CECP's organizational and strategic planning. Alison holds a BA in Corporate Communications from Manhattan College.