Our Team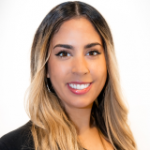 Angelina Paulino
Associate, Events
As the Events Associate for the Corporate Strategy and Impact team at CECP, Angelina brings together CSR leaders, leading CEOs and investors through CECP's industry roundtables and annual flagship events.
Angelina's background is in the Health Information Technology field, facilitating internal conferences throughout the United States. Prior to working at CECP, Angelina started her own Corporate Events Consulting firm where she worked closely with leaders in the Health IT sector to put on their annual meetings and get them presence at the largest industry conferences in the Nation.
Angelina earned a B.S. from Florida Gulf Coast University in Marketing. While attending Florida Gulf Coast, Angelina was a regular at both the crystal-clear Gulf Coast beaches and the FGCU Entrepreneur Club.
During her free time, Angelina can be found exploring and discovering new unique places in Lower Manhattan.