Our Team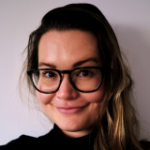 Faustyna Hariasz
Associate Manager, Strategic Engagement
As Associate Manager, Strategic Engagement for Chief Executives for Corporate Purpose (CECP), Faustyna helps advance the mission of the organization by leading growth-oriented strategies and targeted engagement opportunities for current and prospective CECP companies. Through dedicated relationship management, outreach, and discovery, Faustyna connects the dots for CECP companies and accelerates their impact strategies by engaging them in CECP's broad slate of resources and benefits.
Prior to CECP, Faustyna was instrumental in building the Institutional Membership program at NationSwell, a social impact agency, where she grew a community of social impact leaders from across sectors and facilitated connections and conversations in service of making the world we live in just a little more equitable and sustainable. She began her career in the marketing and branding space, and spent several years leading corporate relations at AIGA, the world's oldest and largest professional association for design.
Faustyna graduated with a Bachelor of Science in Media, Culture and Communication from New York University. Based in New York City, when not facilitating impact with CECP, she can be found volunteering with her local mutual aid group, in community gardens, or with organizations looking to boost literacy and education access in Brooklyn.