Our Team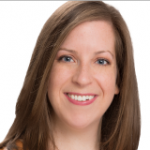 Leah Battin
Senior Associate, Company Advisory
As Senior Associate, Company Advisory, Leah provides quantitative research and analysis, and collaborates with affiliated companies to innovate, develop, and deliver their impact strategies across CECP's five Centers of Excellence: societal/community investment; employee engagement; environmental social governance (ESG)/sustainable business; diversity, equity, and inclusion (DEI); and telling the story.
Prior to CECP, Leah worked in affordable housing development, commercial real estate, and education. As a development project assistant at Dominium, she organized feasibility, due diligence, closing and financing logistics for 36 affordable housing transactions and projects totaling 7,200+ units in 13 states with total project costs exceeding $450M. Prior to Dominium, as a client services coordinator at Cushman & Wakefield, she synthesized enrollment, financial, and academic data on 4,400 charter schools in 12 states to target new business development opportunities. Prior to Cushman & Wakefield, Leah taught middle and high school math in the Twin Cities and Chicago.
Leah earned an MBA from the University of Minnesota's Carlson School of Management, where she focused on social impact strategy, innovation, and entrepreneurship. While at U of M, Leah served as Professional Student Government representative to the Board of Regents and was co-chair of the Student Services Fee Committee. She was also a Forte Fellow and an inaugural John dePodesta Leadership Fellow for innovation in higher education, funded by ECMC Group. Leah holds a Master of Arts in Teaching from Hamline University and a Bachelor of Arts from Washington University in Saint Louis. She is based in Saint Paul, MN.