Our Team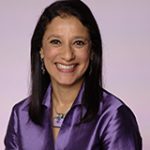 Nandika Madgavkar
Senior Director, Strategy and Growth
Nandika Madgavkar is available for speaking engagements. Please download her speaking profile for details.
As Head of Strategy & Growth and the Executive Sponsor of CECP's Sustainable Business Center of Excellence, Nandika Madgavkar oversees new business development, strategic partnerships, philanthropic investments and the advancement of the Center. Leveraging her knowledge and expertise in sustainable business, Nandika oversees forging new and deepening current relationships within CECP's network of partners, leading CECP's growth strategy, while contributing to the movement to re-orient the capital markets towards the long-term. As part of its sustainable business strategy, CECP's CEO Investor Forum focuses on industry-leading research, investor mobilization, and educational and advisory services that prioritize long-term planning (a 3-5 year time horizon). The Forum is also renowned for its dynamic Reg FD platform for CEOs to communicate their long-term business strategy. The CEO Investor Forum is proud of its lead role in preparing the capital markets for the purpose-driven economy. To learn more, visit ceoinvestorforum.com.
Nandika has served in leadership roles in corporate responsibility for 15 years, focusing on strategy, reputation management, employee engagement, executive communications, and brand development. Most recently, Nandika was responsible for promoting MetLife's Corporate Responsibility efforts both in the U.S. and globally. In this position, she was responsible for building a strong brand presence, overseeing effective internal and external communications, and ensuring MetLife's Corporate Responsibility efforts were aligned with the company's core values. In addition, Nandika was the primary communications and media partner for the MetLife Foundation, executing on maximizing its brand and community impact globally.
Prior to joining MetLife, Nandika managed internal and external communications for Citi's Community Development and Microfinance departments. As the communications liaison for the business, Nandika was responsible for maximizing Citi's community impact both in the U.S. and internationally. She managed this through a variety of traditional and digital media such as radio, television, print, and social media. She joined Citi in April 2003.
Nandika has also worked as a journalist in India. She was a reporter for major English-language dailies such as, The Times of India, The Statesman, and The Telegraph, and contributed regularly to a political weekly magazine, Sunday.
Nandika received her Bachelor of Arts in History and Master of Arts in Political Science from Delhi University, India. She is passionate about human rights issues, is an avid reader, a music enthusiast, and loves to travel. She calls Summit, New Jersey home where she lives with her partner and Cavapoo, Ellie.