Our Team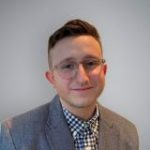 Ren Kedem
Senior Associate, Strategic Engagement & Growth
As Chief Executives for Corporate Purpose's (CECP) Senior Associate, Strategic Engagement & Growth, Ren Kedem manages the coordination of member engagement.
Prior to CECP, Ren worked in the fields of disability advocacy, racial justice, and reproductive health. They most recently worked as a National Program Coordinator at Eye to Eye, overseeing the New York and New Jersey region of the learning disability-focused advocacy organization while developing its nation-wide mentoring program. Prior to Eye to Eye, Ren focused on participatory grantmaking and qualitative analysis through the Brooklyn Community Foundation's racial justice lens. Ren has guest lectured at Columbia University and New York University on the topics of disability, mental health, education equity, and identity.
Ren has a master's degree in Social Enterprise Administration from Columbia University's School of Social Work as well as a BA in Social Work with certificates in Corporate/Community Relations and Gender, Sexuality, and Women's Studies from the University of Pittsburgh. Ren is passionate about utilizing a DEI lens across CSR strategy.