Our Team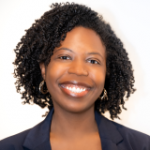 Saara Kaudeyr
Manager, Corporate Research
As Manager, Corporate Research, Saara leads the annual Giving in Numbers survey and serves as lead author and analyst of the resulting report. She also leads CECP's data governance strategy and provides analytical, measurement, and evaluation support as a member of the Corporate Insights team.
Prior to CECP, Saara was a Program Analyst for the nonprofit Good Shepherd Services, supporting their community-based programs serving NYC's children, youth, and families. Her work involved partnering with these programs to measure progress on client outcomes and community impact. She has previously worked in research at the Center for Health, Identity, Behavior, and Prevention Studies.
Saara has a Master of Public Health degree from NYU's School of Global Public Health, as well as a BS in Biology with a minor in Public Health from the College of William & Mary.