Our Team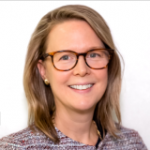 Sara Appleyard Adams
Senior Director, Communications and Marketing
Sara Appleyard Adams is available for speaking engagements. Please download her speaker profile for details.
As Chief Executives for Corporate Purpose's (CECP) Senior Director, Communications and Marketing, Sara provides counsel to leading global corporations on their social strategies—how they effectively engage with stakeholders such as community, employees, and customers. Engaging top-tier media and like-minded partners, she strives to change the dialogue on business and communicate the vital role of corporations in solving societal challenges. Through her role, Sara builds awareness of CECP's thought leadership by putting CECP's companies, spokespeople, data, research, and networks front and center.
Prior to CECP, Sara was Vice President at Widmeyer Communications, a communications firm where she spent time in both their Washington, DC and New York, NY offices. For more than 10 years, Sara provided communications counsel on a wide variety of domestic policy issues to the nation's leading foundations, nonprofits, and corporations, as well as federal agencies. She brought to Widmeyer a background in federal policy through her work at the U.S. Department of Education and the Education and Workforce Committee in the U.S. House of Representatives. Working in politics on both sides of the Atlantic, Sara logged experience with the Clinton-Gore Campaign in Florida and New Hampshire, and the Greater London Labor Party in England.
Sara has an M.A. in Public Administration from The George Washington University and a B.A. in Political Science from the University of New Hampshire, was a founding Executive Committee member of the Board of Directors of the Newtown Memorial Fund, is active with the Junior League of Stamford-Norwalk, is a member of the Ad Council's Advisory Committee on Public Issues, and a board member of SoundWaters.