CSR Asia, an ELEVATE company, is a mission-driven business that has evolved over time to become a leader on sustainability issues in Asia. We promote sustainability through a wide range of channels including advisory services, networks, platforms for cross-sector collaboration and by providing access to a repository of insights.
This article was originally posted on CSR Asia's blog on March 14, 2018
China is now the second largest investing country in the world, with its outward foreign direct investment (FDI) rising 44 per cent to $183 billion in 2016, according to the World Investment Report 2017 published by the United Nations Conference on Trade and Development. China's latest official statistics show that by the end of 2016, around 24,400 domestic investors had established some 37,200 FDI enterprises in 190 countries and regions1.
The global expansion of Chinese enterprises has been a rather recent phenomenon since the early 2000s, and is closely tied with China's ambitions for global leadership and cooperation. The policy rubric of "Going Global" has also evolved from the Hu–Wen leadership to the Xi-Li leadership:


Between ambitions and realities, it is worth examining the impacts of Chinese enterprises overseas on host communities as well as global development, particularly on the sustainability front.
The 2017 Report on the Sustainable Development of Chinese Enterprises Overseas sheds light on the sustainability impacts of Chinese "Going Global" enterprises in relation to the United Nations (UN) Sustainable Development Goals (SDGs). By engaging with 543 Chinese enterprises operating in the Belt and Road regions, 41% of which are state-owned enterprises, and 38 stakeholder representatives, the report reveals some interesting findings: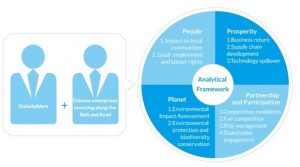 People (SDGs 1-6 and 8):
Relatively high levels of awareness of corporate social responsibility, together with actual investments in the welfare of local communities, were observed among the surveyed enterprises;
For risk prevention, around 50% of the surveyed enterprises have conducted a Social Impact Assessment (SIA) before launching a project;
Minor differences were found between the measures taken to protect the basic rights and interests of both Chinese expatriates and local employees, possibly due to the influence of local laws and regulations on labour employment;
8% of surveyed enterprises reported to have not yet established comprehensive occupational health and safety management systems;
Stakeholders felt that more efforts are needed from Chinese enterprises in promoting gender equality and conducting SIAs.

Prosperity (SDGs 7-10):
Making medium-to-long term, large-scale investments in energy, infrastructure, communication technology and other high-demand industries overseas brought most profits to Chinese enterprises;
55% of the surveyed enterprises preferred to source and purchase locally;
Nearly 60% of the surveyed enterprises reported to have provided technical consultation services and personnel exchange to the host countries;
"Transferring skills and technologies to the host countries" was an area identified by stakeholders as most in need of improvement.

Planet (SDGs 11-15):
Around 65% of the surveyed enterprises had conducted Environmental Impact Assessments (EIAs) for their overseas projects, 48% of which have already started or completed the implementation of relevant recommendations;
Surveyed enterprises most commonly installed pollution-control equipment for sewage (60%), solid waste (57%), exhaust (41%), and noise (40%) to reduce the emission of pollutants;
24% of the surveyed enterprises have already formulated policies related to purchasing low carbon and/or environmentally-friendly products, and 49% plan to formulate one;
Stakeholders felt Chinese enterprises should strengthen environmental sustainability more so than their social and economic performance.

Partnership and Participation (SDGs 16-17):
93% of the surveyed enterprises considered the development strategies of the host countries during their overseas investment and operations;
Only 24% of the surveyed enterprises reported to know the existing environmental or social sustainability requirements stipulated by the local government;
Most of the surveyed enterprises have established mechanisms to ensure business integrity (95%), whilst anti-bribery (59%), anti-corruption (57%), and anti-unfair competition (53%) mechanisms need to be strengthened;
More than half of the surveyed enterprises reported to adopt sustainability practices due to the requirements of their head offices (68%) or the local government (53%);
Stakeholders would like to see more consultations with stakeholders held to provide inputs for the company's decision making and more collaboration with NGOs and other development organisations or UN entities during sustainable development projects.
While the ultimate impacts remain to be seen, the above shows that Chinese enterprises overseas are on path to progress towards contributing to the global sustainable development agenda. Chinese businesses should better prepare themselves, not just for the government's tightened supervision on overseas investment risks, but also for the opportunities ahead to sustain their long-term business growth.

Contact Gloria Luo (gloria.luo@csr-asia.com) for more details of how CSR Asia can help your business go global responsibly.

Other references:
1.Ministry of Commerce People's Republic of China (MOFCOM), Statistical Bulletin on China's Foreign Direct Investment in 2016.