December 2, 2015–Minnesota is home to dynamic industries and many of the top 100 companies in the Fortune 500 such as UnitedHealth Group, Target, Best Buy, and 3M, making it a model for economic development. Public and private-sector initiatives like Grow Minnesota!, Best in Business Awards, Drive Emerging Leaders, and Executive Women's Council, engage private companies with community involvement and talent development among professionals. Particularly, the Minnesota Keystone Program recognizes and honors companies that donate at least 2 percent of their pre-tax profits to the community.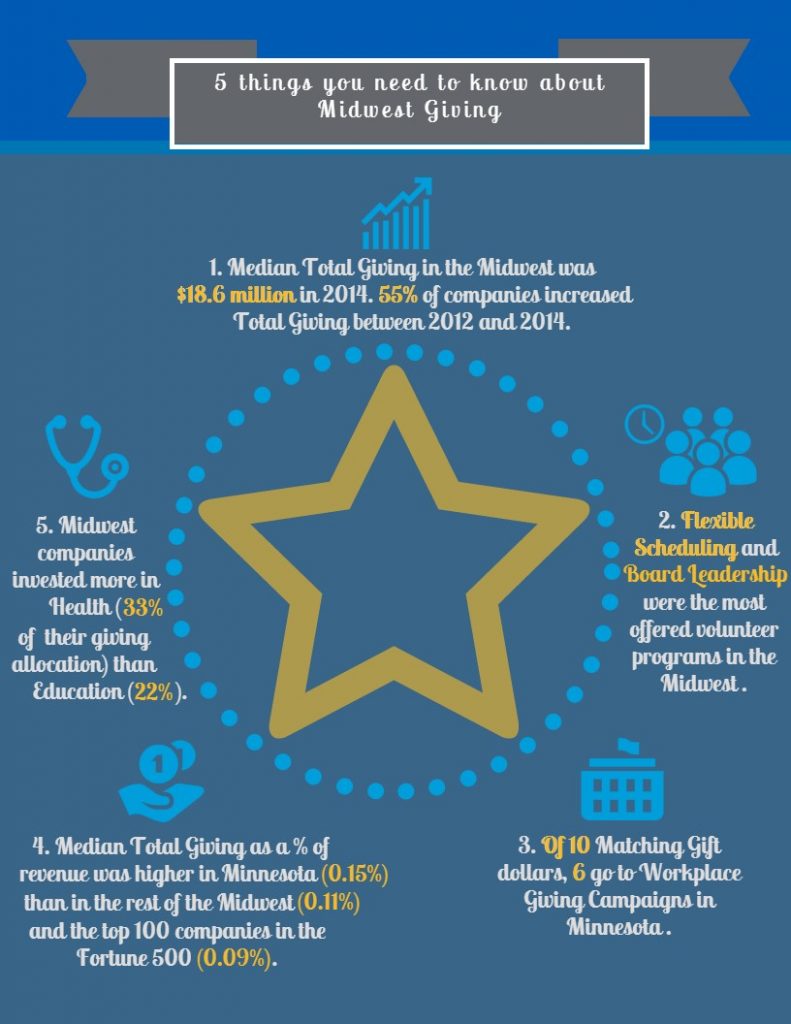 CECP had the pleasure to present to the Senior Community Affairs Professionals (SCAP) network from the Minnesota Council on Foundations on October 6th 2015. We shared with them the most recent trends in corporate giving, matching gift programs, and corporate volunteer programs in the Midwest region of the U.S. and in some cases Minnesota, drawn from CECP's insights and company survey data.
Benchmarking Against Revenue: Keystone of societal investment for Minnesota
Community affairs professionals in the Midwest are directing some of the greatest levels of company investment in communities. This is particularly relevant in Minnesota, where the median of giving as a percentage of revenue (0.15%) exceeded that of all surveyed companies (0.12%), top 100 companies in the Fortune 500 (0.09%), and total Midwest companies (0.11%) in 2014. The proportion that total giving represented of revenue (0.30%) was even higher for Minnesotan companies that belonged to the top quartile of community investors than any other comparison group in 2014.
Strong giving aligns with profits in the Midwest
The median ratio of giving to pre-tax profits for Midwestern and Minnesotan companies (1.01% and 0.86%, respectively) was above the median of all surveyed companies (0.82%) and even the top 100 companies in the Fortune 500 (0.81%).


Source: CECP Company-reported dataset, 2014
Midwest companies invested more in Health than Education
Giving in Numbers reports on nine program areas (e.g. Arts or Environment) where companies invest. We observe a substantial top program area difference in 2014 between all surveyed companies in Giving in Numbers and those from the Midwest region. Across all Giving in Numbers respondents, Education (K-12 and Higher Education) was the program that was allocated the most total giving (30%), followed by Health and Social Services (26%). When taking a closer look at companies located in the Midwest, we observe they had a higher focus on Health and Social Services (33%), followed by Education (22%).
Midwest leads the way for an increasing Board Service volunteering
Regional differences for the Midwest are also present in terms of domestic (headquarters country) volunteer opportunities when compared to broader company trends. In 2014, Paid-Release Time (60%), Employee Volunteer Awards (59%), and Dollars for Doers (56%) were the top-three most offered volunteer programs among all Giving in Numbers respondents. Board Service was the fastest growing program in terms of the percentage of companies offering it (from 43% to 53%, in a matched-set data of 145 companies between 2012 and 2014). Midwest companies are aligned to and even leading this overall trend. The top-three programs offered by Midwestern companies were Board Service (65% of companies), Flexible Scheduling (65%), and Paid-Release Time (63%).
Year-Round Policy Matching Gift programs are rapidly growing in Minnesota
The spread across the five types of Matching Gift programs also present regional differences when comparing Midwestern companies and all respondents in Giving in Numbers. In 2014 there was more widespread allocation of Matching Gift programs towards a Year-Round Policy (48%), followed by Workplace Giving (33%) for all companies. Companies in Minnesota allocated a higher proportion of their Matching Gift budgets towards Workplace Giving (60%), followed by Year-Round Policy (34%). In a non-matched data set between 2013 and 2014 we observe that in 2014 Minnesotan companies doubled their allocation to Year-Round Policy of Matching Gifts when compared to their 2013 allocation, which was only 16% of their total Matching Gifts budget.
Minnesota guiding the way to effective corporate citizenship
The latest Giving in Numbers: 2015 Edition demonstrates a connection between societal investment and financial performance among companies. Companies that increased total giving by 10% or more had higher median pre-tax profit and revenue growth rates (14% and 9%, respectively) than the rest of companies (9% and 2%, respectively). Both employees and customers favor companies that show a strong commitment to society. This corporate reality is evident in Minnesota where the state received a top ranking from CNBC's 2015 list of leading states for business, considering competitive measures such as workforce productivity, costs of doing business, infrastructure, economy, quality of life, technology and innovation, education, business friendliness, cost of living, and access to capital. These companies' commitments to align their business strategy with their societal investment will only strengthen the state's prospects, as it has been the case for the North Star State.
What's happening with your company in the Midwest? What are your regional challenges? Let CECP know at info@cecp.co! Or Tweet about your programs to celebrate and share your work: @CECPTweets
CECP is a coalition of CEOs united in the belief that societal improvement is an essential measure of business performance. Founded in 1999, CECP has grown to a movement of more than 150 CEOs of the world's largest companies across all industries. Revenues of engaged companies sum to $7 trillion annually. A nonprofit organization, CECP offers participating companies one-on-one consultation,networking events, exclusive data,media support, and case studieson corporate engagement.