Stanley Black and Black & Decker wanted to engage its employees while supporting diversity.
Houlihan Lawrence, the brokerage firm owned by Berkshire Hathaway, wanted to demonstrate to its 1300 agents its commitment to the next generation.
Eversource Energy sought purpose as it launched its internal women's network for the first time while hoping to lead change in its industry.
And EY (Ernst & Young) wanted to turn a weekend into a "Super Saturday" for its employees and drive new conversations with the upcoming Proving the Power of NextGen Women Report & Webcast.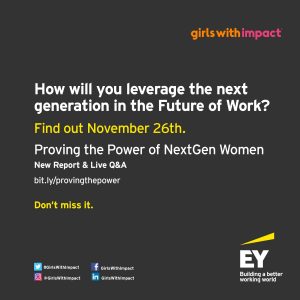 Although from different industries, for these companies, Girls With Impact played a unique role: enhancing their brand, engaging employees and customers, creating a talent pipeline and impacting the local community.
For EY's Dan Black, head of global recruiting, who attended the Saturday graduation at EY's Stamford office with his 7-year-old daughter Lucy, it was an eye-opener to see the ventures these teen girls are creating.
"I see this as a great entrée into helping women understand what we do and also as a potential target for future internships," said Black (Watch Dan Black).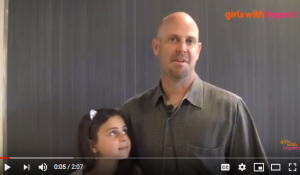 Girls With Impact is the nation's only tech-enabled entrepreneurship training ground for teen girls.
And while a host of STEM and coding programs exists for girls, it fills a critical void in the Future of Work and the timely focus on women: providing real business and entrepreneurship training, equipping the next generation to innovate and lead, whether they work for a corporate or for themselves.
The non-profit operates like a mini-MBA, year-round. After school or on weekends, high school girls attend the 12-week Academy live, online, delivered by trained coaches. They move from ideation to a real business plan, culminating in an in-person graduation, where girls pitch their ventures – everything from personal finance apps to digital medical dictionaries to efforts to help the homeless (view girls' ventures).
Students discuss Starbucks during a live class, from the comfort of home.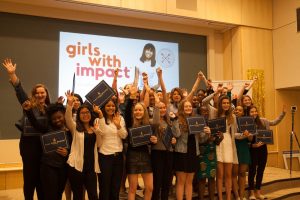 Girls hold certificates from U.S. Richard Blumenthal.
These teens represent an impressive diverse population – a key priority for many corporate foundations and leaders who want to make a difference.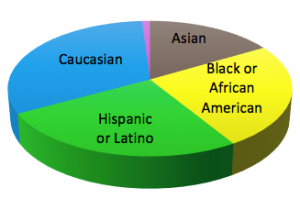 Davos as Catalyst
With input from Harvard Business School professor and friend Lynda Applegate, Girls With Impact started after CEO Jennifer Openshaw, a Silicon Valley entrepreneur, Dow Jones columnist and former CMO of Mercer's global When Women Thrive platform, was in Davos at the World Economic Forum.
"The topic of women surpassed anything anyone had ever seen," says Openshaw, noting that CEOs talked about getting to 50/50 women by 2030. "But companies are still grappling with how to retain and leverage women in the workplace.  We think it's smarter to focus not on the root of the problem, but the root of the solution – and that's the next generation."
Girls With Impact is now seeking partners for an official national rollout.
"We know this is an exciting platform," says Openshaw. "With real outcomes and proof that tech can create access to powerful work readiness, we're now ready to scale. We want to partner with companies and leaders who want to create a lasting stamp on the Future of Work."
"We've barely scratched the surface," says Chris Meyers, president of Houlihan Lawrence of their partnership with the organization. The company has even run magazine ads featuring the program.
Be a part of it
To explore joining Girls With Impact, contact Ms. Openshaw directly at jen.openshaw@girlswithimpact.com or 212/773-0423.
More on Girls With Impact: