October 26, 2015–It's Pro bono week! A growing way companies go deeper in what they deliver through employee engagement programs is Pro Bono Service, which CECP has been tracking since 2008.
More companies across different industries are recognizing the value of Pro Bono Services provided by their employees to support nonprofit organizations. It is becoming less of a niche for lawyers, accountants, or financiers.
Below, you'll find some of the latest trends in pro bono, but first, let's define what we're talking about. What makes it different from traditional or skills-based volunteering? CECP has partnered with Taproot Foundation to create industry standards and benchmarking for Pro Bono Services. As a result of this collaboration, CECP's Pro Bono Valuation Guide—updated for 2015–defines Pro Bono Service as a type of non-cash giving in which donated skills are priced at Fair Market Value. Its main differences from other volunteer programs are:
Commitment: Companies make a formal commitment to the recipient nonprofit organization to deliver a quality final work product.
Professional Services: Employees trained in Pro Bono Services deliver professional services for which the recipient nonprofit would otherwise have to pay with the same level of skills that constitute the core of their official job descriptions.
Indirect Services: Pro bono Services must be indirect. The corporation must provide the service to a qualified end-recipient that is a) formally organized; b) has a charitable purpose; and c) never distributes profits.
This criterion, which is based on CECP's Global Guide Standard, holds for all types of giving recorded in the CECP survey, and will be the updated standard by which CECP will define a company's total giving beginning in next year's Giving in Numbers Survey.
OFFER OF DOMESTIC PRO BONO PROGRAMS ON THE RISE
An increasing number of companies are recognizing Pro Bono Services as a relevant way to produce higher outcomes in their community engagements. When analyzing a matched-set of corporations that offered at least 1 domestic volunteer program in each of the last 5 years, we observe that almost 6 out of 10 of these companies offered a domestic pro bono program in 2014, an increase of 16% since 2010 (up from 39%, see Figure 1).
Figure 1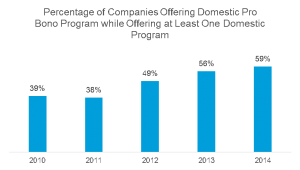 Source: CECP Company-reported dataset. Matched-Set, 2010- 2014, N=88
Now that we've looked at the trends, what did 2014 look like? Last year, half of the companies that reported at least one volunteer program included a pro bono program in what they offer. One out of five corporations reported offering both a domestic and international pro bono program to their employees. See Figure 2 for the full breakdown.
Figure 2
Types of Pro Bono Programs – Domestic or International, 2014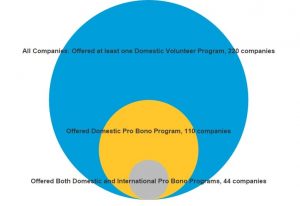 Source: CECP Company-reported dataset, chart to sample size scale, 2014
WHICH COMPANIES ARE DOING PRO BONO?
Best Buy made news when its Geek Squad ran a pro bono program focused on the gender gap in technology careers.
Morgan Stanley runs an annual Strategy Challenge that selects a short list of non-profit organizations to receive pro bono service. Teams of some of the company's outstanding strategic and analytic minds complete a project to recommend the path forward for the organizations' future.
See more case studies, here.
MORE COMPANIES TRACKING THE VALUE OF PRO BONO
Even though pro bono offerings are on the rise, it is still challenging for companies to report and capture their value. Among CECP survey respondents, we observe a growing trend in the number of companies that reported the value of their pro bono work. In 2010 only 23 companies reported a pro bono Fair Market Value, whereas in 2014, twice that number (48) reported this value.
But when we look at the detail of what they reported, the yearly median Fair Market Value of Pro Bono Services declined from 2010 to 2014, from $0.9 million to $0.2 million. See Figure 3. There could be multiple explanations for this. One may be that it takes time for employees to build the habit of reporting their hours even if tracking has begun, which can partly explain why the value has declined as more companies measure this work. To show this further, we can see reported pro bono hours declined over the course of the last years. In 2014 the average of reported Pro Bono Service hours was 38,220, and in 2013 it was 52,228.
Figure 3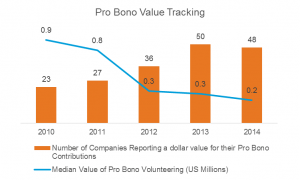 Source: CECP Company-reported dataset. Not Matched-Set, 2010- 2014
EXPANSION OF PRO BONO SERVICES ACROSS INDUSTRIES
As more companies offered Pro Bono Services to their employees, in 2014 the percentage of companies that offered programs varied across industries, from a low of 23% to a high of 70%. In 5 out of 10 of the industries, this percentage was above 50%, which represents a great expansion of a volunteer program that originally was oriented towards the legal profession. The Health Care industry had the largest offering of pro bono programs across the board with 70%.
CECP tracks non-cash giving in three categories: product/service, pro bono, and other. Half of the industries surveyed have more than 15% of their Total Non-Cash Giving invested in pro bono support. Leading the industries, the Financial sector reported that 32% of their total Non-Cash Giving consisted of Pro Bono Services. To see the full non-cash breakdown of each industry, see page 17 in Giving in Numbers: 2015 Edition produced by CECP.
Corporations will continue developing newer ways to engage their employees into Pro Bono Service programs but the main challenge will remain in continuing to deliver more value in a practice that is being redefined by each industry and individual corporations.
Figure 4
Percentage of Companies Offering Pro bono Programs by Industry and Percentage of Pro Bono from Non-Cash Giving, 2014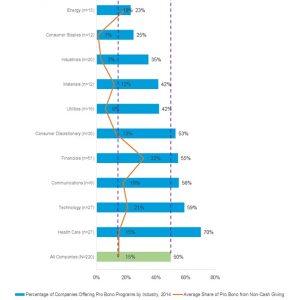 Source: CECP Company-reported dataset, 2014
What's happening with pro bono programs at your company? What are your challenges? Let CECP know at info@cecp.co! Or Tweet about your programs to celebrate and share your work: @CECPTweets #PBW15 @TaprootFound