2020 has changed everything. The globe has faced unprecedented challenges–health, climate, inequality, –and the call to the business sector to play its part grows ever louder. As Richard Edelman, founder of the leading PR firm Edelman has said, "The events of this past year reinforced business' responsibility to lead on society's issues…". With increased SEC scrutiny on ESG reporting and recommendations from the World Economic Forum on aligning ESG metrics, we are entering an era of heightened and perhaps accelerating business accountability and transparency.
Trust is a core value at Salesforce and like many of our corporate peers, we regularly track and publish transparency disclosures related to our Environmental, Social and Governance (ESG) programs. We adhere to existing best practices, and participate in standardized reporting methodologies where they are available.
When it came to valuing and reporting our corporate giving, we utilized robust methods for tracking volunteer hours and corporate grants. But product donations and discounts are also a big part of Salesforce.org's mission and philanthropic strategy, and yet historically, we have had no standardized way of measuring or reporting on them. What's more, we found we needed to go beyond disclosing to understanding the totality of what we are giving back, and this has meant creating a single figure to represent the aggregated value of our donated product as well as grants and employee volunteerism.
Many CSR, ESG, and Social Impact Measurement professionals would agree that it is important to standardize what and how we report about corporate giving and impact. ASV holds tremendous potential value for companies, the corporate sector, as well as the communities in which we work and live. Standardization enables us to know if we're measuring things correctly, how we stack up against others, and what we are doing collectively to address some of the most pressing problems facing us today. Yet some areas, such as product donation, have been long reported but still lack some desired rigorous standards for valuation.
In response to this need, Salesforce, together with KPMG and McPherson Strategies, developed the Annual Social Value (ASV) metric, which represents the full scope of what we are giving, including a methodology for valuing product donations and product discounts. This methodology is not just for external reporting, but to understand our internal business.
What is "Annual Social Value"?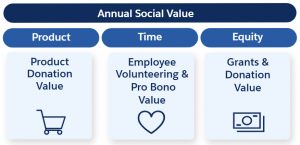 Annual Social Value (ASV) represents the total monetary value of a company's contributions with the intent of making the world a better place in a one-year period. ASV is based upon generally accepted accounting principles (GAAP) and it leverages existing best practices in corporate reporting for valuation of employee volunteerism and grants, including CECP's Giving in NumbersTM Survey, while simultaneously offering the corporate sector a standardized methodology for valuing and reporting donated products.
The development of the ASV methodology has been guided by three core principles: Transparent, Reperformable and Verifiable.
Transparency has been paramount as we developed and implemented the methodology. Along with inclusion of the ASV figure in our non-financial SEC filings, we have published the methodology and criteria used in that year. We intend to raise the level of transparency on these types of disclosures, as well as offer a model for others with which follow in calculating and obtaining assurance on their annual social value, as well.
The social value of product donation and discounts is based upon the estimated price that would have been received if a comparable product was sold to a for-profit business of similar size and location, less the price that we received, if any. The methodology relies on SSP (Standalone Sales Price), as other common valuations (i.e., list price or fair market value) do not consistently represent the typical price received for a product and could result in an over-statement of social value. A full description of the methodology is found in Salesforce Social Value – Criteria & Methodology (FY 2021).
With a standardized methodology, ASV is Consistent and Reperformable and will be calculated in the same way every time. This means that, theoretically, we will always be comparing apples to apples, and accordingly, will be able to observe trends over time. And because it is consistent and reperformable, calculations based on the methodology are verifiable, and can receive assurance from an independent third-party reviewer.
The Path to Stakeholder Capitalism
Without a standard methodology, the metrics and figures reported by companies may have limited practical utility, since they lack comparability or universal meaning. The promise of the ASV metric is two-fold. First, by increasing transparency and accountability in reporting philanthropic efforts, companies will be better able to benchmark and compare their giving across industry, sector, and among aligned businesses.
Secondly, and perhaps more importantly, it provides the first step in a journey towards understanding a company's social impact. Impact is meaningful, measurable, sustainable change in the individuals and organizations we aim to support. Annual Social Value is not "impact", but it is a connector. Salesforce believes that while the "business of business" is to improve the state of the world, it's what our community does with what we provide that leads to sustained social impact. ASV allows us to understand our contribution and connects the dots from ESG to Social Impact Measurement. It is the entry-point for Salesforce's Theory of Impact and it ultimately enables us to gain insight into how our communities are creating social impact.
Annual Social Value (ASV) shows stakeholder capitalism at work. We hope that this will transform the way that Salesforce–as well as other organizations, approaches and discloses their philanthropic efforts, as well as to increase transparency and accountability across the philanthropic sector.
For more about how Salesforce is reporting Annual Social Value, see our FY21 Stakeholder Impact Report.