Leading companies are now more deliberately leveraging leadership and employee engagement to generate sustainable social good. It's an answer to the question, "How does business shift to meet the changing demands of investors, employees, customers, and communities to meet business and social standards?" For years we've known that leadership and employee engagement are important, of course, but they are no longer sufficient to compete in today's business landscape.
For the first time, the motivation to generate sustainable social impact has surpassed leadership skills development and increased employee engagement as the top reason to invest in Global Pro Bono. That's the key finding of the 8th Global Pro Bono State of the Practice, published by PYXERA Global in June, 2019.
Global Pro Bono programs are corporate-sponsored initiatives aligned to a company's broader strategy. Participating employees contribute their professional skills to assist social mission-driven organizations such as nonprofits, social enterprises, and government entities. Improving lives and livelihoods—inclusively and sustainably—is what we've been doing at PYXERA Global for nearly 30 years.
We have long standing efforts of bringing the power of business to bear in underserved communities on nearly every continent, by partnering with companies to send their employees into the field for short-term assignments to work with nonprofits, building capability and capacity in underserved communities.
Since 2008, the practice has continued to grow. Both the number of participants and the number of countries have increased, indicating broad and expanding appeal. Once the domain of only the largest companies, the practice is now available to companies of all sizes through multi-company programs, such as the Corporate Champions or Education, backed by SAP and implemented by PYXERA Global.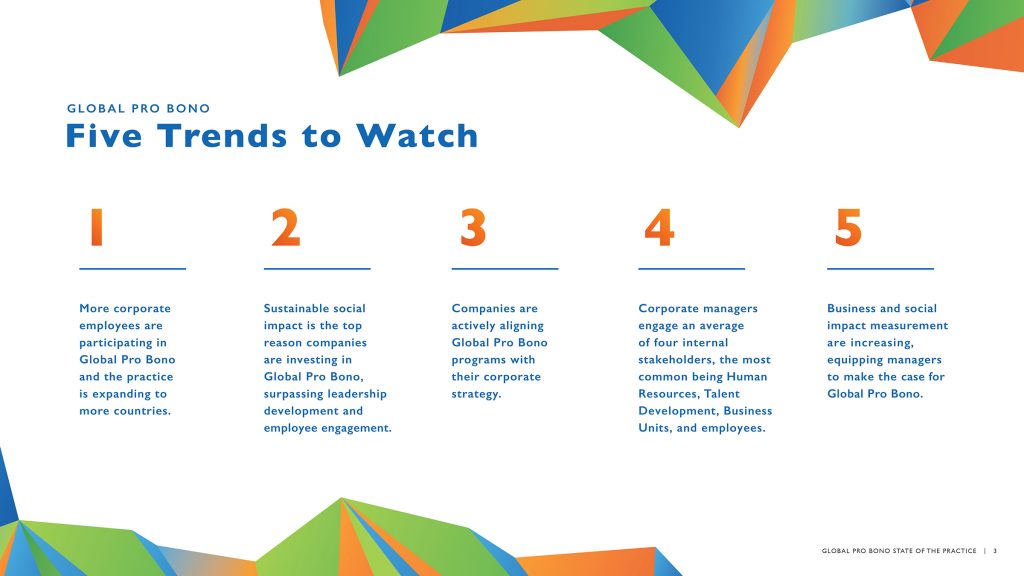 Companies also report an increasing alignment between their Global Pro Bono (GPB) programs and their corporate strategies. If a corporate program doesn't meet a corporate strategy, why would it be in place? What's more interesting is the convergence of social impact and business strategy. Eighty-five percent of companies now report their GPB programs align with their social impact strategy, and 70 percent report aligning directly with specific business strategies. It's one more trend highlighted in the State of the Practice report that demonstrates the interest in sustainable social good as a key deliverable from companies also well known for delivering financial performance to their shareholders.
This finding is consistent with other reports. According to Deloitte's 2017 Millennial Survey, 86 percent of millennials, who represent the biggest global generation, believe financial performance should not be the sole measure of business success. Greater focus on impact investing and the stated expectations of financial executives like Larry Fink, CEO of BlackRock, have also encouraged companies to pay attention to environmental, social, and governance (ESG) indicators, as well as financials, to inform long-term business strategy.
Since 2013, the number of companies conducting social impact measurement has increased by 33 percent, while business impact measurement increased 14 percent. More companies want the data not only to adapt programs for greater impact, but also to amplify the results to external and internal audiences. This trend indicates the importance, demand, and increasing sophistication of measurement of both business and social impact to continue directing resources toward the strategies that give multiple—and high—rates of return, like GPB programs.
Finally, while Global Pro Bono serves as a way to accelerate and amplify business' sustainable social impact outside the company, it also serves as a powerful mechanism for internal collaboration, slicing through silos and providing diverse departments such as Corporate Citizenship (CSR), Human Resources, and the business units a tangible program around which to unify and give employees a clear line of sight. The effect not only illustrates a company's purpose, but also empowers employees to embody that purpose as they contribute solutions for society's most pressing problems.
About the Global Pro Bono State of the Practice Report:
Since 2010, the biennial Global Pro Bono State of the Practice report has reported trends and best practices in Global Pro Bono. The 2019 report draws on survey data from 26 companies, 63 percent of which belong to the Fortune Global 500. With survey data dating back to 2008, the longevity of this initiative by organizer PYXERA Global provides a robust understanding of the practice as it grows and evolves. The report provides a snapshot of the current state of Global Pro Bono and a look at top trends to guide companies seeking to initiate or expand their programming. Download a copy of the report for free.