The week of October 22nd marks the celebration of Pro Bono Week! CECP wants to reiterate its support to this important employee engagement tool and celebrate its importance for society. The recently released Giving in Numbers: 2017 Edition report evidences the benefits for companies of communicating a clear sense of purpose to their employees. Pro Bono Service programs serve as an important catalyzer in developing a stronger sense of purpose among employees, by letting them apply their particular set of skills into, ideally, causes of their true interest. Giving in Numbers data show that Pro Bono Services volunteering continues to be a crucial program among large corporations.
Pro Bono Service programs were offered to domestic employees by half of companies in the 2016 Giving in Numbers Survey and three out of four companies offered them to their international employees (employees outside of the company's headquarter country). When analyzing the data in a three-year matched set of companies that provided volunteer offering data in each of the last three years, we observed that the offering of Pro Bono Services is still growing. The Offering of domestic Pro Bono Services continued growing but a slower pace than in previous years of analysis. However, domestic Pro Bono was the second fastest-growing volunteer program (exceeded only by Flexible Scheduling), and continues to be recognized by the world's largest companies as a critical employee engagement tool.
The following programs had the largest gains in terms of the percentage of companies offering them in their domestic market between 2014 and 2016 (N=157):
Flexible Scheduling (57% to 62%)
Pro Bono Services (53% to 54%)
In a matched set of companies, Pro Bono programs increased their share of non-cash contributions from 14% in 2014 to 26% in 2016. As shown in the chart below, Communications was the industry with the highest offering of domestic Pro Bono Service programs, although its monetary value share out of non-cash giving is not as high as other industries like the Financials industry. One of the most common ways Communications companies provide Pro Bono Services is by offering production and messaging assistance for public service announcements made by recipient nonprofits.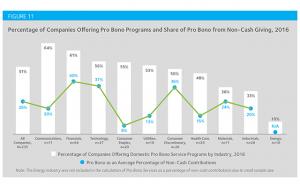 Companies are increasingly recognizing Pro Bono Services' business value. In 2014, only 18% of companies in a matched set of 212 companies that reported total giving in each of the last three years also reported pro bono monetary value, while in 2016 this percentage was 25%. Along with the increase in measurement of pro bono work, the yearly median value of Pro Bono Services, adjusted by inflation, has also increased, from $470,000 in 2014 to $810,000 in 2016.
Pro Bono Services trails behind other volunteer programs when it comes to perceived success, but still has experienced a significant increase in recent years. In 2014, 24% of a matched set of companies offering it identified Pro Bono Services as a successful volunteer program for their company; in 2016, this percentage went up to 32%, which represents the highest increase among all domestic volunteer programs, in terms of the percentage of success perception (an 8 percentage points increase).
CECP's work in terms of understanding the latest Pro Bono trends goes beyond the North American scope. CECP's companion report to Giving in Numbers, Giving Around the Globe: 2017 Edition, highlights the regional differences of Pro Bono offering among companies around the world. The figure below shows that the Asian region is the one with the highest offering of Pro Bono Service Programs.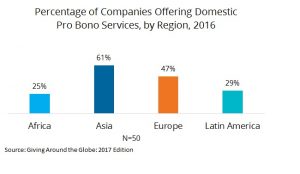 Source: Giving Around the Globe: 2017 Edition
Corporations will continue developing innovative ways to engage their employees into Pro Bono Service programs that will foster their leadership skills into causes they can relate to. Corporations' main challenge will continue to be adjusting to rapidly-changing industries with their own particularities.
What's happening with pro bono programs at your company? What are your challenges? Read more about Pro Bono Services from Giving in Numbers: 2017 Edition and Giving Around the Globe: 2017 Edition. Let CECP know at info@cecp.co! Or Tweet about your programs to celebrate and share your work: @CECPTweets #PBW17 @TaprootFound