It has become a concern, of course, for most companies to face their social responsibility on a global as well as on a local level. Whereas this often happens by supporting social initiatives with generous donations, progressive corporations have long before started to engage more actively within their communities. Instead of only giving money to social causes, they want to lever their resources even more. More specifically: the time and talents of their employees. The emerging trend of corporate volunteering shows that for companies applying a holistic approach to corporate social responsibility, it is no longer a question of whether but rather of how to engage their employees.
The how was also the key question of a new study* which has been collaboratively conducted and published by Beyond Philanthropy (a consultancy specializing in corporate philanthropy and CECP's Global Exchange Country Partner in Germany) and the Chair of Corporate Social Responsibility at one of Europe's leading Business schools, the Faculty of Business Administration of the University of Mannheim.
As its title The Right Line-up for Corporate Volunteering indicates, we examined what it really takes to set up a Corporate volunteering program that effectively benefits not only the company but also its employees and charitable partner organizations. For this purpose, we talked to ten non-profit organizations, surveyed more than 1,200 employees and interviewed 25 representatives of Germany's biggest companies such as Adidas, Siemens, and Volkswagen.
The evaluation's focus has predominantly been on the 25 qualitative interviews which revealed an overall willingness to offer corporate volunteering initiatives as well as a broad variety of how to implement them.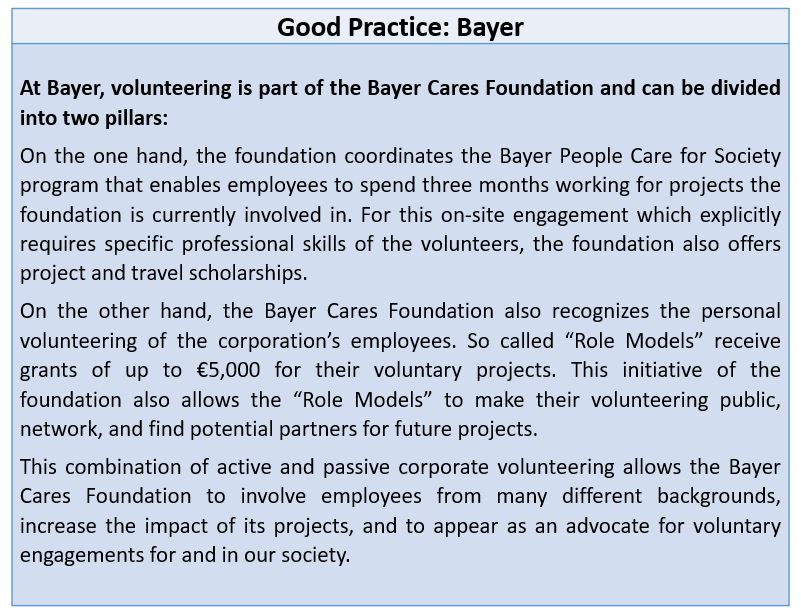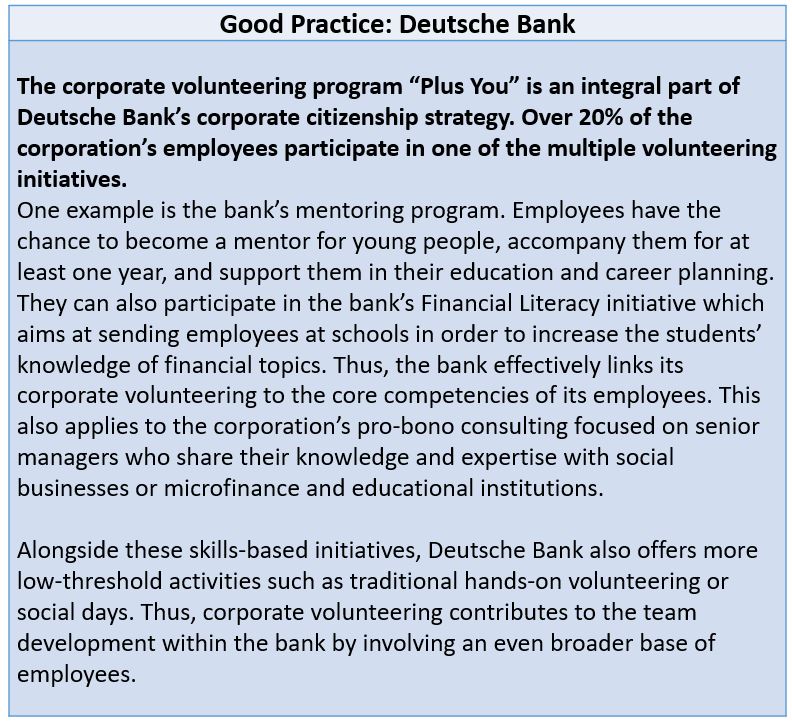 Whereas some of the interviewed companies are still at the very beginning of corporate volunteering, others have already found a way to develop corporate volunteering initiatives that strategically align with their core businesses. Despite these differences, all interviewees came up with similar questions regarding their approach to corporate volunteering:
Should we support the personal volunteering of our employees or develop our own programs? Or even both?
What kind of corporate volunteering is more attractive for our employees: traditional or skills-based?
What role do internal stakeholders such as the Board of Management or the Works Council play?
How do non-profit organizations as potential partners view corporate volunteers?
What are the corporate and social goals of corporate volunteering programs?
How can the impact of corporate volunteering be measured?
How should we communicate our corporate volunteering activities?
To answer every single one of the questions above at the same time is difficult. This is due to the multifaceted nature of corporate volunteering. There is simply not just one perfect approach. Multiple factors such as individual interest groups or various forms of organizational culture enormously influence the eventual outcome of corporate volunteering programs. Yet, the research results identified a pattern that can help companies to get on track – or as we call it: The Right Line-up for Corporate volunteering:
Right from the start, the company should define clear parameters that determine the company-specific court of corporate volunteering.
In order for the initiative to succeed, the needs of the employees must be identified and taken into account during the development of the program.
Once the game is open, there is a need for symbolic and substantial coaching in the form of credible support from C-level executives and management.
"After the game is before the game." Only through an understanding of performance can companies learn from the past and optimize future commitment. Well thought-out and context-adapted impact measurement is indispensable for the management of corporate volunteering programs.
These four rules can be a starting point for companies that want to implement an overall successful corporate volunteering program. However, the endeavor remains demanding and sometimes stressful. But – according to the vivid examples in our study – all efforts will be worth it.
*The German version of The Right Line-up for Corporate volunteering – Insights from Germany's DAX30 was published in December 2018. In spring 2019, the study will be translated into English and distributed via Beyond Philanthropy's newsletter.